Bali is a popular destination for divers.
There are countless dive sites with a variety of highlights – from wrecks to steep walls to artificial reef projects.
I also learned to dive in Bali, back then in Padangbai . Since then I have been able to discover some of the diving spots in Indonesia and still can't get enough of Bali's underwater life.
In this article I will introduce you to five recommended diving regions around the island.
1. Bali diving spots: Discover the Liberty shipwreck in Tulamben
The Liberty shipwreck, popular among divers, is located on the coast of Tulamben .
The sunken ship is only a few meters from the beach and is 9 to 30 meters deep on black sand.
Due to its location and depth, the wreck is also ideal for inexperienced divers.
The biodiversity of the underwater world around the Liberty attracts divers of all levels. Snorkelers are also welcome!
You can easily dive to the wreck from the beach – without a boat.
Around the sunken ship you can look forward to small "nemos" (anemonefish), blue-spotted rays, scorpion fish, moray eels, as well as schools of tuna and sweetlips.
Also muck diving fans will get their costs!
The Liberty was an American supply ship. Loaded with railroad parts and rubber, she made her way from Australia to the Philippines in 1942. When it arrived in Bali, it was attacked by a Japanese submarine. After the attack, the ship should be towed to Singaraja. Too much water broke in at Tulamben, so the ship was abandoned on the beach in Tulamben, where it was looted by Balinese. The volcanic eruption of Gunung Agung , dated 1963, led to the current position of the Liberty.
Another great diving spot in Tulamben is the Tulamben Drop-Off . This beautifully overgrown steep wall was created after the volcanic eruption in 1963.
Look forward to schools of mackerel, buffalo-head parrotfish and reef sharks. Sometimes even hammerhead sharks are spotted here.
Recommended diving schools on site
a) Ocean Sun Dive Resort Tulamben
b) Amed White Sand Divers
2. Bali diving: Discover Amed's underwater world
Next Bali dive spots is Amed, located in the northeast of Bali . A great place for coastal fans who want to relax away from hotel chains and parties.
The small villages of Amed, Jemeluk and Lipah are located on a 15 km long coastal strip with many beautiful bays with a dark sandy beach and traditional sailing boats.
The area is rather dry and rocky. Most of the area's inhabitants live from fishing and sea salt extraction.
Useful website for Amed : amedbali.info
Amed is great for divers and snorkeling fans, because here you can go on a discovery tour directly from the bay.
The Jemeluk beach is particularly recommended for snorkeling fun. There you will find colorful schools of fish and large coral gardens directly below the water surface.
A real underwater treasure awaits you at the Japanese Ship Wreck Point , just a few meters from the shore. The spot is equally exciting for divers and snorkelers!
3. Bali diving spots: diving at Manta Point and Crystal Bay off Nusa Penida
Nusa Penida , the neighboring island of Nusa Lembongan and Nusa Ceningan , is best known for the two fascinating diving spots Crystal Bay and Manta Point .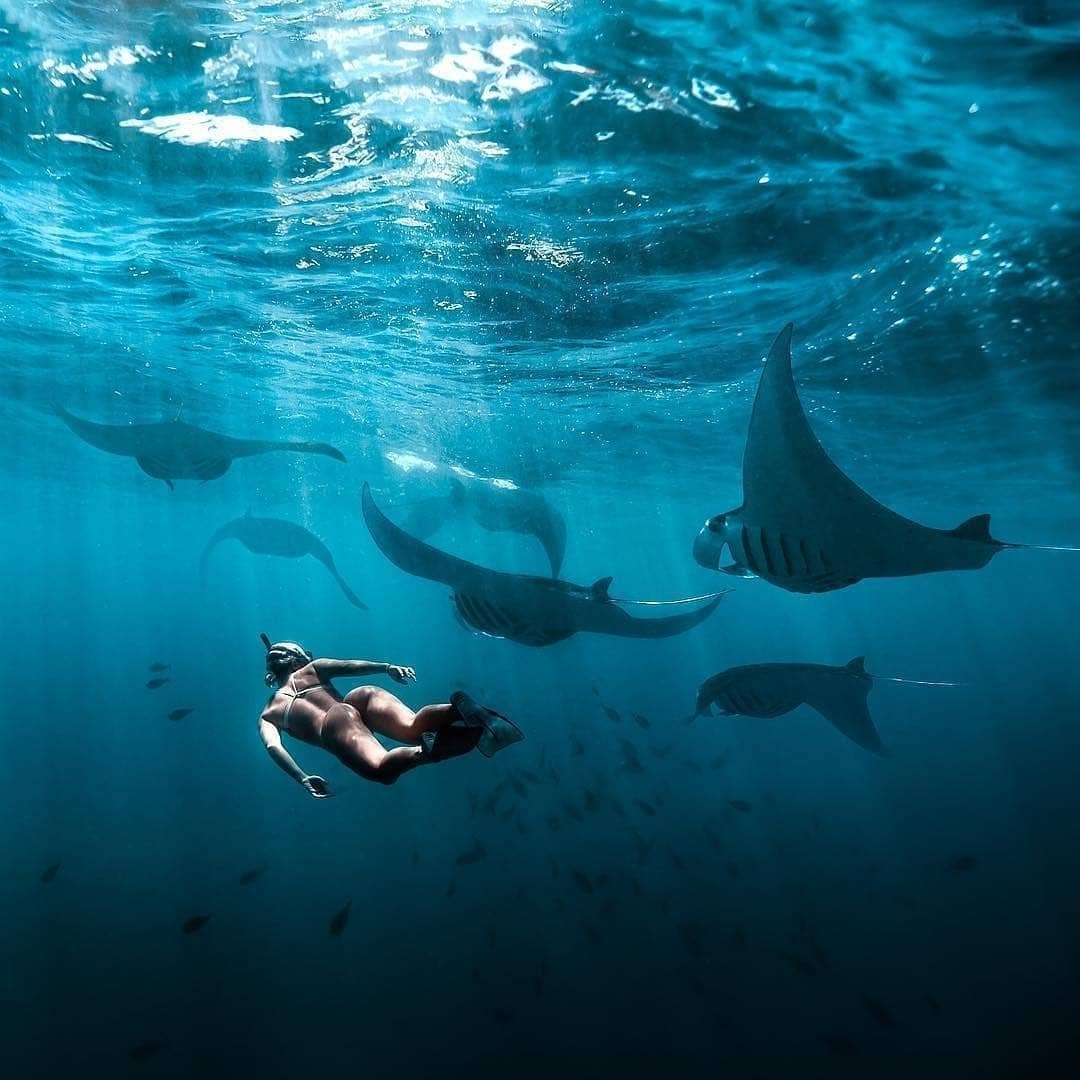 But around the three islands there are almost 20 diving spots that can make big fish lovers, muck photographers and current fans happy at the same time.
The current-intensive dives at Crystal Bay are more for experienced divers. Here you dive through colorful coral gardens with an incredible number of fish. And if you are lucky, you will meet the magical, but very rare and up to 3.5 meter giant sunfish , also called Mola Molas.
Especially in September and October there is a good chance to meet the underwater giants. The sunfish season is officially from May to November . To go diving at Crystal Bay, many exchange schools require an advanced open water diving license.
Diver T-Shirts: We are such Mola Mola fans that we designed our own Mola Mola T-Shirts and Mola Mola Hoodies . Have a look in our Spreadshirt Shop.
At Manta Point, a manta ray cleaning station , you have a pretty good chance of encountering these elegant giants of the sea.
No matter whether you are an experienced diver, a beginner or a hobby snorkeler – everyone gets their money's worth at Manta Point. Because even as a snorkeler you get very close to the giants. This spot is definitely worth a trip.
But be careful, the water here is very cold and the waves are not without.
In addition to manta rays and sunfish, divers can also look forward to reef sharks, moray eels, crocodile fish, moray eels, shrimp and crabs and many nudibranchs.
If you don't have a diving license, you should definitely take a snorkeling tour offered by many locals at Jungutbatu Beach on Nusa Lembongan or from Crystal Beach on Nusa Penida . Usually two or three different spots are visited during a trip.
Diving schools on site
Diving trips to Nusa Penida are often offered by diving schools in Nusa Penida , Sanur , Nusa Lembongan and Nusa Ceningan or from Padangbai .
Warnakali Dive Center Nusa Penida
Blue Corner Dive Nusa Lembongan
Dive Concepts Nusa Lembongan
Water WorxX Dive Center Padangbai
Ocean Gravitiy Dive School Sanur
4. Bali diving spots: dive almost alone in the magical forest
Never heard? No wonder, because hardly anyone talks about this place. This area is an absolute pearl for divers.
Most divers are drawn north from Bali to Pemuteran or Menjangan Island . There is so much more to discover in the north!
The spots Magic Forest and Ships' Graveyard are particularly beautiful .
The area is home to many different types of corals and fish. Look forward to parrot fish, puffer fish, boxfish, scorpion fish, dragon heads, seahorses and lots of slugs.
Muck fans will get their money's worth at Spot Secret Bay, a little further away . And then there's Puri Jati , a real El Dorado for Muck Lover.
Diving schools on site
North Bali Divecenter
Sea Rovers Dive Center

Abyss Ocean World

Reef Seen Divers Resort
* There is a pearl farm right next to the North Bali Dive Center. Here you can find out the most important facts about pearl farming.
5. Bali diving: Discover the blue lagoon in Padangbai
Padangbai is a perfect place to learn to dive. Since many diving schools have settled here, the prices for the diving license are cheaper than in many other areas of Bali.
For the SSI or PADI Open Water License, you have to expect around 350 euros.
In Padangbai you have the Blue Lagoon diving spot right on your doorstep, which due to the shallow depth offers ideal conditions for diving newbies.
Other popular dive sites around Padangbai are Channel , Templegarden , Jetty , Bias Tugal , Tanjung Sari or Tanjung Jepun .
What will you see underwater in Padangbai? Lots of octopuses, cuttlefish, crayfish, colorful snails and some rays. Even reef sharks are spotted around Padangbai more often. Incidentally, the Blue Lagoon is ideal for night dives.
After the long days of diving, you can reward yourself with a cool drink in the evening in the three small reggae bars in the village.