Bali 10 Days itinerary: Your Ultimate Guide to How to Spend 10 Days in Bali
You are a lucky thing. It's going to be 10 wonderful days in Bali. This Indonesian gem is a great choice for anyone who loves south-east Asian countries.
You've come to the right place if you're a first-timer in Bali and are looking for the best 10 days Bali itinerary. In 10 days, you can see quite a lot of Bali.
This Bali itinerary will take you to beautiful temples and iconic landscapes. It also features a tropical island lifestyle with some adventure. It will cover all of your Bali bucket lists, and I cannot wait to share it with you.
These photos of Indonesia are truly breathtaking. This Bali itinerary will take you to 10 amazing places. You'll also find great Instagrammable spots to make your vacation unforgettable.
What are you waiting to do? Let's grab a cup of coffee and learn more about the amazing Bali 10 Days itinerary
10 DAYS IN BALI ITINERARY-USEFUL INFORMATION
Ten days is sufficient time to see all the main attractions and allow you to relax and have fun. This is your vacation.
The itinerary for 10 days in Bali is flexible. You can change the details as you wish. The majority of people arrive in Bali from Ngurah Rai International Airport, which is located near Denpasar, on the south side of the island. I have used this as my starting and ending point.
How to get around Bali from the Airport
Ngurah Rai International Airport is the main airport on Bali. It is also known as Denpasar International Airport. It is located approximately 13km south from Denpasar.
There are many ways to travel from Denpasar Airport around Bali to other destinations.
The public bus is one of the most cost-effective, but also the slowest. You can also book your airport transfer to your hotel directly in advance using either a VIP Meet & Greet or a regular shuttle.
Pre-booking your taxi in advance will save you time and help avoid paying high fees at the airport.
Book Now: Private Transport from Denpasar Airport To Your Hotel
YES! Bali is extremely safe. I felt as secure in Bali as I feel back home during my stay. Use your common sense to solve any problems.
Every country has its own crime rate, even my hometown! Be aware of where you live, what you're doing and how to return to your accommodation.
You shouldn't show your expensive jewelry, designer wear, or money around. It is worth hiding cash and valuable items in a money belt. If you are looking for something a little more fashionable, consider a scarf with hidden zip pockets.
Balinese are friendly and very helpful.
To keep your stuff safe while you are out and about, get an anti theft backpack
In terms of safety, tap water is not available in Bali. The world doesn't need more plastic waste. Imagine what it would be like if you had a new water bottle for every day of your 10 days in Bali. You don't have to buy a new bottle of water each time you need it. Instead, bring your water purification filter bottles.
What is the best time of year to visit Bali
Bali is a tropical paradise with sun all year. However, it can also be humid. The season in Bali is divided into two: the dry season (between May and September) or the rainy (between October and April).
The best time to visit Bali if you want to avoid crowds is between April and June or September to October. You will find lower prices and fewer tourists at the main attractions.
Expect crowds and higher prices during school holidays (July and August) and Christmas and New Year.
10 DAYS IN BALI ITINERARY- YOUR PERFECT GUIDE ABOUT HOW TO SPEND 10 DAYS In BALI
Day 1 -2: Ubud
Bali's cultural center. Visit the famous rice fields, mythical temples, and arts and crafts markets.
Day 3: Mt.
Batur
Take a sunrise tour up Bali's volcanoes, then return to Ubud in afternoon for some well-deserved pampering at a spa or infinity pool.
Day 4: Pura Ulun Dau Bratan & Iconic Falls
It's one of Bali's most famous temples. In all the promotional shots, you can see it in the lake. Follow the waterfalls through the afternoon.
Day 5-6: Canggu
Enjoy the chill vibe at Canggu's beaches and enjoy the best smoothie bowls. Or learn how to surf in nearby Seminyak. Enjoy a relaxing afternoon at Tanah Lot while you watch the sunset.
Day 7 – 9: Nusa Islands
You can snorkel or dive on the Nusa Islands. You might spot Mola Mola and Manta Rays. You might find a quiet cove or lagoon.
Day 10 – Uluwatu
You can relax on the beaches during the afternoon. Take a trip to Uluwatu at sunset to see the Kecak Fire Dance.
BALI 10 DAYS ITINERARY
DAY 1 – 2: UBUD
Summary: Ubud is Bali's cultural center. Visit the famous rice fields, mysterious temples, and arts and crafts markets. You can spend two days exploring the area.
Start your Bali 10 Days itinerary by heading straight from Denpasar Airport to Ubud. It can take between 1 and 2 hours depending on traffic to complete the 40-kilometre journey. This private transfer takes you from Denpasar Airport directly to your hotel in Ubud.
You can leave your luggage at the hotel and go exploring. Ubud is still a charming and authentic place, even compared to many other towns along the southern coast. The town has seen a huge tourist boom since Julia Roberts' Hollywood film "Eat Pray Love" in 2010.
Begin your journey by visiting Pura Taman Saraswati. Due to its two large lotus-ponds, the Balinese Hindu temple has been called the Ubud Water Palace. This temple is dedicated to Sarasvati, the goddess of love and peace. It is located in the heart of Ubud so it feels like a piece of paradise away form the hustle and bustle of the streets.
Head to the arts and craft markets from here. This vibrant market offers everything, from designerwear knockoffs (yeah skip those), to handwoven bags, batik-printed textiles, and cute colourful carved masks. Although there are many markets, the best one is Pasar Seni Ubud, which is right next to the Royal Palace in Ubud.
A visit to the Sacred Monkey Forest is a must on any trip to Ubud. It's a 2km walk, or you can take a taxi. You can spend a few hours wandering around the temples and forest. The majority of the site is located under trees so it's cool and peaceful in the afternoon heat.
Here, the macaques are resident. They are opportunistic and overly confident. If you have any loose items, they will steal them. To feed the monkeys, you can purchase bananas from stalls all over the forest.
Goa Gajah temple is worth a visit if you're on the same side as town. This small temple, known as "the elephant cave", is famous for its unique stone carvings of Hindu gods. It dates back to the 9th century.
Day 2 – Ubud
You will need to transport yourself to visit some places farther from Ubud. Day 2 of your Bali 10 Days itinerary is day 2. You can rent a scooter and drive your own scooter around Bali if you feel confident. You can also hire a driver for a day starting from Ubud. Give them your itinerary. Both options are affordable. Start early as there is so much to see.
Get ahead of the crowds, and before it gets too hot, and make your way to the Tegalalang Rice Terraces. The Campuhan Ridge walk is an excellent option for those who have more time in Ubud. You will pass rice paddies, traditional landscapes, and Balinese farmland.
The ridge walk begins near Ubud center and connects up to the Tegalalang Rice Terraceaces. However, on a 10-day Bali itinerary, this is not possible. Keep it as a reason to return one day.
Head to Pura Tirta Emul from the rice fields. This temple in Hindu Balinese has sacred bathing pools that are used for purification and rituals. There will be several water fountains and people waiting in line. You will be blessed by Holy Spring Water as you move along.
Next stop: Besakih Temple, located on the slopes Mount Agung. This temple is the most sacred temple of Hinduism on Bali. It is also home to 23 temples, making it the largest temple complex. The entrance to Pura Penataran Agung's main gate is marked by a famous split gateway, also known as a candi bentar.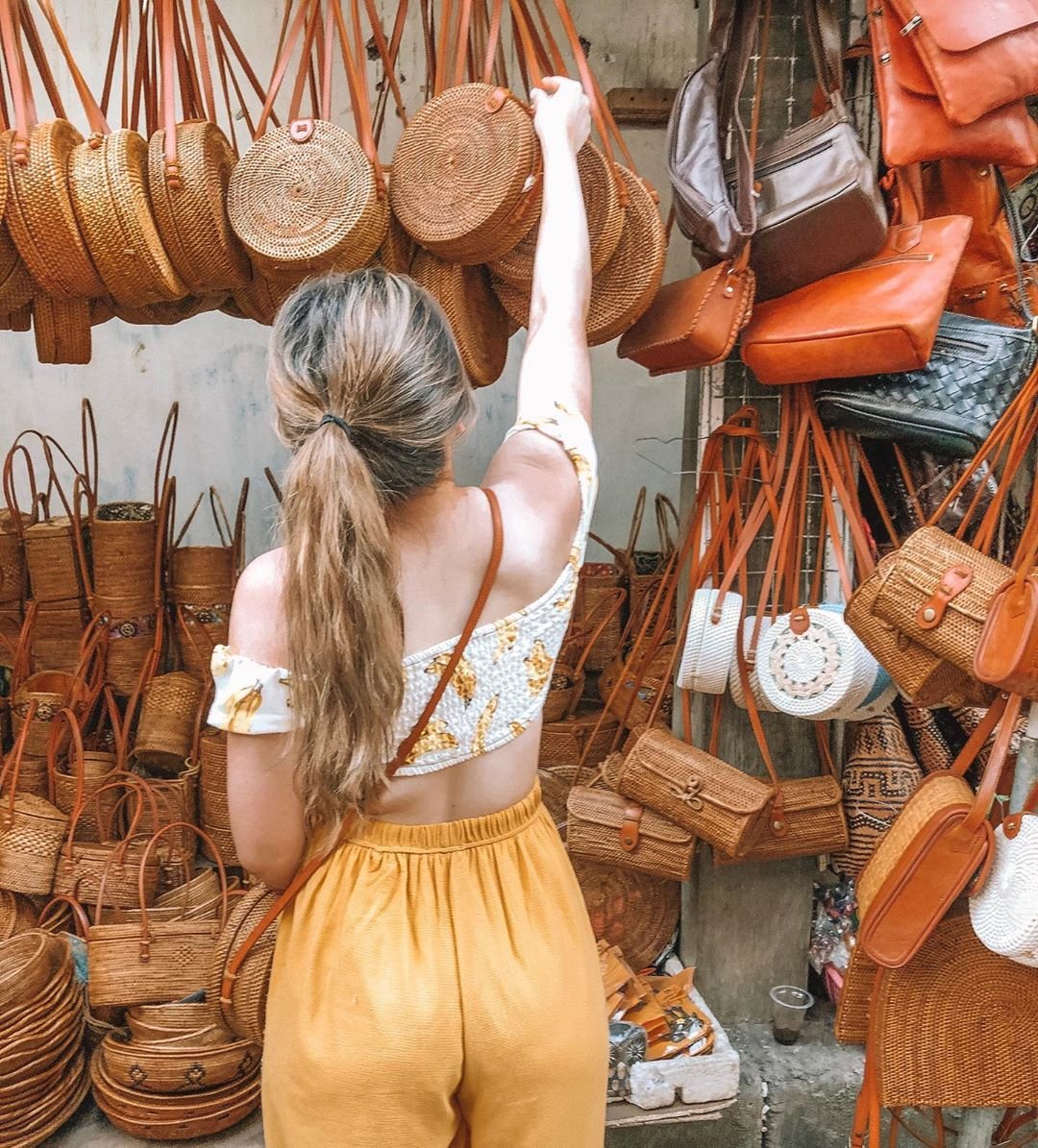 Next, continue on towards Tirta Gangga's picturesque gardens. Its name means "Water of the Ganges", which is the holy river of Hinduism. The gardens are filled with stunning stone sculptures, and tiered fountains.
The final stop for today is Penataran Lempuyang Luhur. Here is the iconic Instagram image of the split gateway set against the backdrop of an active volcano and topped by a lake. The lake is fake. It's a trick of the pro photographers by placing reflective material under the camera. However, the rest of this famous place is true.
Although there is usually a line to get your photo taken, it is a numbered ticket system that allows you to explore the area and return later.
There are several waterfalls you can visit if you have the time to stop by on your way back from Ubud. Tukad Cepung Waterfall, which has two waterfalls that are lit by the sun inside a cavern, is the most famous in the area.
If you are on a budget, Sabana Ubud is the ideal option.

This 4-star hotel is a steal.

These rooms are large and have a pool and sun terraces.
Mid-Budget – The Garcia Ubud Hotel & Resort has been called an 'amazing resort' and a "perfect escape".

The rooms are large, have an infinity pool and some bungalows have their own pool that overlooks the rice paddies.
Four Seasons Resort Bali at Sayan, Ubud: This resort is located in the middle of lush tropical valleys along the Ayung River.

This 5-star resort is rated highly.

There are 2 pools on the property, a gym and an onsite spa.

You can take a stroll through the lounge area, which is located in the middle a lotus lake.
Check here Amazing Things to Do in Ubud Bali
BALI 10 DAYS ITINERAR
Y
DAY 3: MT.
BATUR
Summary : After a sunrise tour of Bali's volcanoes, return to Ubud for some well-deserved pampering at a spa or infinity pool.
You won't believe it, but day three of your Bali 10 Days itinerary will be an unusually uplifting start. It's time to say goodbye to sleep. You will need to get up at the crack of dawn in order to climb Mount Batur and watch the sunrise. It's well worth it!
You'll be rewarded for getting up early and hiking before sunrise. You'll also be able to enjoy breakfast there.
It's likely that you will return to Ubud by the afternoon so make arrangements for some well-deserved pampering. You can spend the afternoon at one of the spas or infinity pool while you brag about how amazing it was.
BALI 10 DAYS ITINERAR
Y
DAY 4: PURA ULUN DANU BRATAN & WAUFFALLS
Summary: Go to Bali's most photographed temple. It's the one in all the promotional shots. Follow the waterfalls through the afternoon.
Day 4: Pura Ulun Danu Bratan & Waterfalls
Day 4 of your 10-day Bali itinerary will see you saying goodbye to Ubud. Today, you're heading to Lake Beratan. This is the lake where the Pura Ulun Dau Beratan temple complex can be found.
There are many temples in Thailand, but one is the most prominent in Thailand's publicity shots for "visit Bali". Lingga Petak Temple can be found on a small island within the complex. However, clever camera positioning makes the temple appear to be in the middle the huge lake. You can find many water-based activities around the lake.
Today's second 10 day itinerary in Bali is all about chasing waterfalls. Remember TLC from the 90s? Their song "Don't chase waterfalls" is a reference to them. You'll spend an afternoon chasing waterfalls.
Stop at the Handara Gate to capture a memorable photo while you are on your way to the waterfalls. You can choose from Banyumala Twin Waterfall or Gitgit Waterfall depending on how much time you wish to spend at each waterfall. You can do them all if you feel ambitious.
You can also stay if you have more time to spend in the area.
Stay near Pura Ulun Danu Bertan
Budget-friendly: The Garuda Villa and restaurant has rooftop views over the lake and is close to the jungle and waterfalls.

This is a great option to explore the area on a budget.
Mid-Budget – The Bedugul Lakeview Residence is a great choice for its location. It's right next to the Temple Complex.

This place is huge, it can sleep up to 8 people!

You get so much for your money.

It is basically a home.
Spend less: Munduk Moding Plantation Spa and Nature Resort is the most Instagrammable Bali hotel.

You'll understand why.

The infinity pool is incredible!

Equally amazing are the rooms.

This little paradise is surrounded by lush rainforest.
BALI 10 DAYS ITINERAR
Y
CANGGU – DAY 5-6
Enjoy the chill vibe at Canggu's beaches and enjoy the best smoothie bowls. Or learn how to surf in Seminyak. Enjoy a relaxing afternoon at Tanah Lot while you watch the sunset.
Day 5: Canggu & Tanah Lot
Relaxation is the main focus of days 5 and 6 on your 10-day Bali itinerary. Get lazy to start the day. You could spend the morning going after waterfalls that you missed yesterday.
You will be heading down the south coast. You'll find the largest concentration of westernized living in the south. The airport is the most touristy place in the island. Canggu, Seminyak, and Kuta are the main towns.
Kuta was too noisy, tacky, and westernized for me. I only stayed one night. Seminyak has a lot more class, with many boutique shops and cool cafe culture. I still enjoyed my time there.
Canggu is the best. Canggu is far enough from the hustle and bustle to feel more relaxed, but it is only a short drive away if your goal is to be among the crowds.
Enjoy the beach vibes during the day. One of the most popular spots is Echo Beach at Batu Bolong Beach. (I'm told it has great surfing!) The black sanded Canggu Beach.
Later in the afternoon, head to Tanah Lot Temple. Built on a rock outcrop, this traditional Balianise temple was built. It can sometimes be surrounded by water depending on the tide. A causeway crosses the temple at low tide. It is not possible to enter the temple from here.
This temple is great to visit at sunset. To capture the perfect photo of the sun setting behind it, go to the rock outcrop to the south-east. You should also visit Batu Bolong Temple, which is located to the west of Tanah Lot on a natural rock bridge.
Day 6 – Canggu, Surfing and Yoga
You could still enjoy the Canggu vibe on day 6 of your 10 Days in Bali itinerary. It seems unfair to not take advantage of the waves. You can learn how to surf in Canggu. There are many surf schools along this stretch, from beginner lessons to advanced. You can also hire a board if you are a proficient surfer.
You can find lots of yoga studios and fitness retreats in Canggu if you are looking for something more relaxed.
Villa Del Mar Canggu is a great option for those on a tight budget. It offers a bit of luxury, but at a very reasonable price.

Modern and spacious rooms can be found in the villa. There is also an outdoor pool and sun terrace.

These bungalows are adorable too.
Mid-Budget Annupuri Villas Bali offers a great option for those looking for a budget-friendly accommodation. For less than $100 per night, you can get a room with a private pool.

You can also check out their other options. There's a pool with sun loungers and a view of the jungle on the property. It's just a short walk to the beach.
Theanna Eco Villa and Spa is a great option for budget-minded people. It offers villas with every amenity you could want plus your very own pool.

The villa is close to the beach, and guests can use the free bicycles to explore the surrounding area.
BALI 10 DAYS ITINERAR
Y
NUSA ISLANDS – Day 7 – 9
Summary: You can base yourself in Nusa Penida or Nusa Ceningan. You can find the best spots for snorkelling and scuba diving. You can spot Manta Rays in Manta Point and the Mola Mola in Crystal Bay. You might find a quiet cove or lagoon.
You'll be traveling to the Nusa Islands on day 7 of your 10 Days in Bali itinerary. Regular ferry boats take you the 40-minute trip from Bali's mainland several times per day.
Nusa Penida is the largest island. Nusa Lembongan is next, and then Nusa Ceningan is the smallest. You can stay on any of the islands, but Nusa Penida and Nusa Ceningan have a footbridge connecting them. Nusa Penida needs to be accessed by boat.
There are many things to do on each of the three islands. Nusa Lembongan is the most convenient of the three islands for this 10-day Bali itinerary. It has more amenities and will be the best place to stay.
Spend the afternoon exploring the peaceful towns after your transfer to the Islands. Rent a scooter to explore the islands. Head to Nusa Lembongan for Devils Tear and Mangrove forests. Broken Beach is located just a short distance from Nusa Penida.
Snorkelling and diving are two of the most popular activities on these islands. Two amazing dive and snorkel spots are available here. Manta Point is where you will find massive Manta Rays.
Crystal Bay is home to the Mola Mola and Ocean Sunfish, which are the largest bony fish in the world. An adult can weigh over 1000kg and is completely harmless to humans. These sites can be visited by either a diver to see the underwater world or a snorkeller to enjoy the view from above.
This 10 day Bali itinerary won't allow you to become an Open Water Diver. It takes three days. However, they can give you a 'Try-Dive. They basically strap you into a dive tank and send your down. If you don't like that, you can go snorkelling.
Day 9 of the 10-day Bali itinerary will be spent exploring the gorgeous lagoons and quiet bays around Nusa Penida. Atuh and Suwehan Beach are both worth a visit, as well as the breathtaking views from Banah Cliff Point and Thousand Islands Viewpoint. You can also visit Tembeling Beach or Forest to see the cliffs, lagoons, and forests.
Nusa Veranda Sunset Villas and restaurant is a great choice for those on a tight budget.

This villa is the closest to the ocean.

You'll be just meters from the ocean because the sun deck looks out onto it.

You can't go wrong with this price.

This is a great deal at just $50 per night.
Mid-Budget: Jenggala Hill one phrase; just-look-at-that-infinity-pool!

This alone sold me.

It's hard to tell the difference between the ocean and the pool.

This property is a great choice for those on a budget due to its Balinese-inspired decor and large rooms.
Spend less: The Tamarind Resort is located near Tamarind beach and offers mountain views or sea views.

A fitness center and an infinity pool are available on-site.

These 5-star resorts offer large bedrooms with a huge balcony.
BALI 10 DAYS ITINERAR
Y
DAY 10 ULUWATU
Summary: Spend the day relaxing on the beaches. Afternoon, head to Uluwatu to enjoy the Kecak Fire Dance.
Take the ferry to Bali on the last day of your 10-day itinerary. Go to the south side of the island. If you are into dark or quirky tourism, make a quick stop at the abandoned Boeing 737 parked in the middle.
The southern tip of Bali has some of the most beautiful beaches in the country. You can choose to stay another day and catch the last rays. You can spend another day in the sun if you are able to bear it. Head to Thomas Beach for white sands, sapphire blue waters, or Suluban Beach, which is more lively due to the surf.
Late afternoon, you will head to Uluwatu, the last temple on your 10-day Bali itinerary. It's similar to Tanah Lot and has the stunning backdrop of the ocean. Uluwatu, however, is perched on a 70-meter high cliff.
Golden Hour is the last hour before sunset, so arrive here just in time to see the temple. For the best sunset views, head to Uluwatu Cliff (Karang Boma Cliff).
The Kecak Fire Performance is a great way to end your time in Bali. It takes place in an outdoor amphitheatre near Uluwatu's temple. This cultural performance is a must-see and a great way to end your 10 days in Bali. Beautifully intricate costumes are used by dancers and singers to perform scenes from The Ramayana.
One half of the major Sanskrits of ancient India is The Ramayana. Performers enter a state of trance where they are not affected by the heat and can walk and dance on hot embers.
WIRA Homestay & Spa is a great option for those on a tight budget. For less than $50, you can get your private villa with a balcony and beautiful gardens.

The property has a swimming pool and lots of outdoor space.

It is easy to access the beach.
Radisson Blu Bali Uluwatu is a mid-budget 5-star hotel that offers affordable accommodation.

It is located just 200 meters from Bingin Beach. The hotel has an on-site restaurant, an outdoor pool, a fitness center, and beautiful landscaped gardens.
Spend less: The Ungasan Clifftop Resort, located at 493 feet above sea level, is a luxury cliff-edge resort.

The resort boasts stunning views, a private beachfront and an onsite spa.
Save it to be remembered later
I did mention at the beginning how beautiful Bali is. Please share this Bali 10 Days itinerary article with your friends and family.
If you are planning a trip in Bali or Indonesia, why not pin it?
Have questions? I would love to hear from your.