It seems that there is never enough time to really explore the new tourist attractions in Bali in 2019 which indeed never run out of surprise with the beauty of nature and exotic views of the island of the gods. No wonder that Bali is one of the most favorite and popular destinations in Indonesia and even the world. Bali is indeed famous for its super-cool beaches, but not only that, the magnets of this prettiest island have not been proven if you don't know and visit 20 new tourist attractions that are hits, instagramable and up to date.
Here are 19 new Bali Instagram tour the most scenic spots attractions in Bali that you must visit while vacationing on the island of Bali.
1. JASRI BEACH

For those of you who love chocolate and at the same time want to enjoy the beauty of exotic Bali beaches, you can visit Chocolate Factory, which is located in Jasri Beach, Karangasem Regency. The activity that you can do at Jasri Beach is to play swing directly facing the beach which has been provided by the beach manager which of course you can also take photos that are super instagenic. For those of you who are afraid of heights, you should turn your back on the camera so that your tension is not visible. So don't delay planning your vacation to visit Jasri Beach.
2. HIDDEN CANYON, BEJI GUWANG

When talking about the word "hidden", of course we will have a private and hidden atmosphere that makes us comfortable and peaceful. This time we recommend you to visit Hidden Canyo Beji Guwang. There is a hidden treasure which is certainly unique and beautiful, there you can swim to enjoy the calm atmosphere that is located on the road sahadewa, gianyar district of Bali. This canyon which is so spectacular and super beautiful doesn't only attract the attention of domestic tourists, foreign tourists are also very happy and really enjoy this Hidden Canyon Beji Guwang.
3. MARIGOLD GARDEN

You need to know Gemitir(MARIGOLD) Garden was originally a vegetable farm owned by local residents which eventually became hits and famous, because in it there are marigolds that are so typical coming from Central America that grows super aesthetic. Many travelers stop by to visit there to enjoy the beautiful expanse of flower gardens giving peace.
4. SHARMA SPRING BAMBOO

For those of you who want to unwind after a busy day at work, you can visit Villa Sharma Springs Bamboo, which is certainly the best reference as the latest tourist attraction in 2019. This place will still return your zen even if you don't go anywhere, because by coming to your Sharma Spring Bamboo will be sodori the beauty of the Ayung river and forests that are so beautiful and beautiful. You can also capture this moment by taking photos that are certainly very instagramable in all-bamboo design.
5. WATERFALL – ALING ALING

The newest Bali Instagram tour the most scenic spots, Waterfall this time is Aling – Aling Waterfall. With a atmosphere that is so private that this waterfall feels like its own because it is rarely explored. The 12 meter high waterfall is surrounded by cliffs wrapped in lush trees and the waterfalls are very clear and so refreshing. It feels so cool, you can try to get there which is located on Jalan Raya Sambangan Village, Sukasada, Buleleng Regency.
6. THE CHEDI CLUB

Next Bali Instagram tour the most scenic spots, There are items there, the price seems to be very applicable in new tourist attractions this time, if we look at the budget it seems less suitable for you backpackers. The Chedi Club is one of the luxury resorts located in Ubud from the top of the Air Balloon. The rates are quite fantastic starting from Rp. 2.1 million for morning and afternoon flights. As for night flights, it costs Rp. 2.8. You do not need to worry because everything is included with afternoon tea or dinner, really!
7. YELLOW BRIDGE NUSA

This Yellow Bridge is one of the new tourist attractions in Bali which hits and is instagramable of course. The Lembongan Yellow Bridge is also one of the cool epic spots that has become iconic in Nusa Lembongan, which also collapsed about 2 years ago, but does not make this new tourist spot in Bali empty of visitors. The Nusa Lembongan yellow bridge is rebuilt with a stronger construction which adds to the beauty of the Nusa Lembongan Sea.
8. BUILD AIRCRAFT IN ULUWATU

Already know or not yet if there is a wreck of the plane that is instagramable in Uluwatu which is also a must visit, if you are fun to open the google map the fuselage looks clear! So don't hesitate and don't wait for the song's time, hurry and go there to take photos to capture this cool moment.
9. THE SECRET GARDEN SAMBANGAN

It is full of millionths and unexpectedly this place is truly a hidden gem in Bali. The journey to the Secret Garden is not very smooth because the track is quite challenging and it takes a struggle to get to the secret garden spot. But once you get there will be paid for by the beauty of the scenery and the atmosphere that makes you feel at home not want to go home. So don't wait for game time there!
Planning to do the most adventure things in Bali? read before you join to white water rafting Bali ayung river
10. THE LEMPUYANG TEMPLE

Bali is indeed an island where the majority of its inhabitants are Hindus, so don't be surprised if you find a lot of beautiful temples. One of the new tourist attractions in Bali, which is a beautiful temple that you must visit is Lempuyangan Temple that makes people fall in love whose location is in Bunutan, Abang Karangasem Regency. The greatness of Mount Agung becomes your background photo which is decorated with sunlight at golden hour before dusk and really cool dawn.
11. TIRTA GANGGA

If you are bored with the beach you can visit the new tourist attractions in historic Bali as an epic cultural heritage to be explored, one of which is Tirta Gangga which is located on Jalan Abang Amlapura, Karangasem Regency, Bali. A neatly arranged pond filled with cute fish to large size and a fountain that adorns certainly makes your holiday feel colorful, you can set foot around the pool and pose a la consort to be immortalized by taking photos and storing them on Instagram. For the price of a cheap entry! Only Rp. 30 thousand.
12. ICE CREAM WORLD

Apart from a plagiarism Museum of Ice Cream Bali has also become a new tourist spot in Bali that hits and is instagramable which is the most sought after tourist destination. The location is on the By Pass Ngurah Rai street no 4 Denpasar, this is a paradise for aesthetic photo hunters. The theme of the room is cute, with colorful stories and super instagenic properties that make you not satisfied to keep pressing the shutter button. At the end of the trip you can taste various ice cream flavors!
13. KARMA KANDARA BEACH

This new tourist spot in Bali is Karma Kandara Beach, which is no less cool than other famous beaches like Kuta. This new tourist attraction in Bali is located in Ungasan, South Kuta District which offers a calm atmosphere and of course prioritizes privacy because it is far from the hustle and bustle of the city crowd. Its location is quite remote which offers stunning white sand and crystal clear sea water which is certainly fun for you to swim and relax to enjoy the sunshine of Bali.
14. PARK SAFARI

Have you ever known a new tourist spot in Bali this time? If Bali Safari Park has ever won the Indonesia Award Winning Theme Park award! Different from other safari parks, the atmosphere that makes Bali is really decorated by Balinese carvings and statues. The inhabitants animals are imported directly from India, Africa and Indonesia's endemic animals. The location is on the Prof. Bypass road Dr. Ida Bagus Mantra.
15. TEGALALANG RICE TERRACE

For those of you who want to enjoy the sunrise in Bali, you need to know that not only on the beach you can enjoy the sunrise. At Tegalalang Rice Terrace which is surrounded by very iconic rice fields can be your latest vacation spot in Bali. This new tourist spot in Bali is also suitable for enjoying the seconds of the morning sun so exotic. The beauty of rice fields and terraces that are lined up neatly in green are certainly touching, cool and about. Enjoy the new tourist attractions in Bali with this enchanting natural sensation with your family.
16. UBUD TRADITIONAL ART MARKET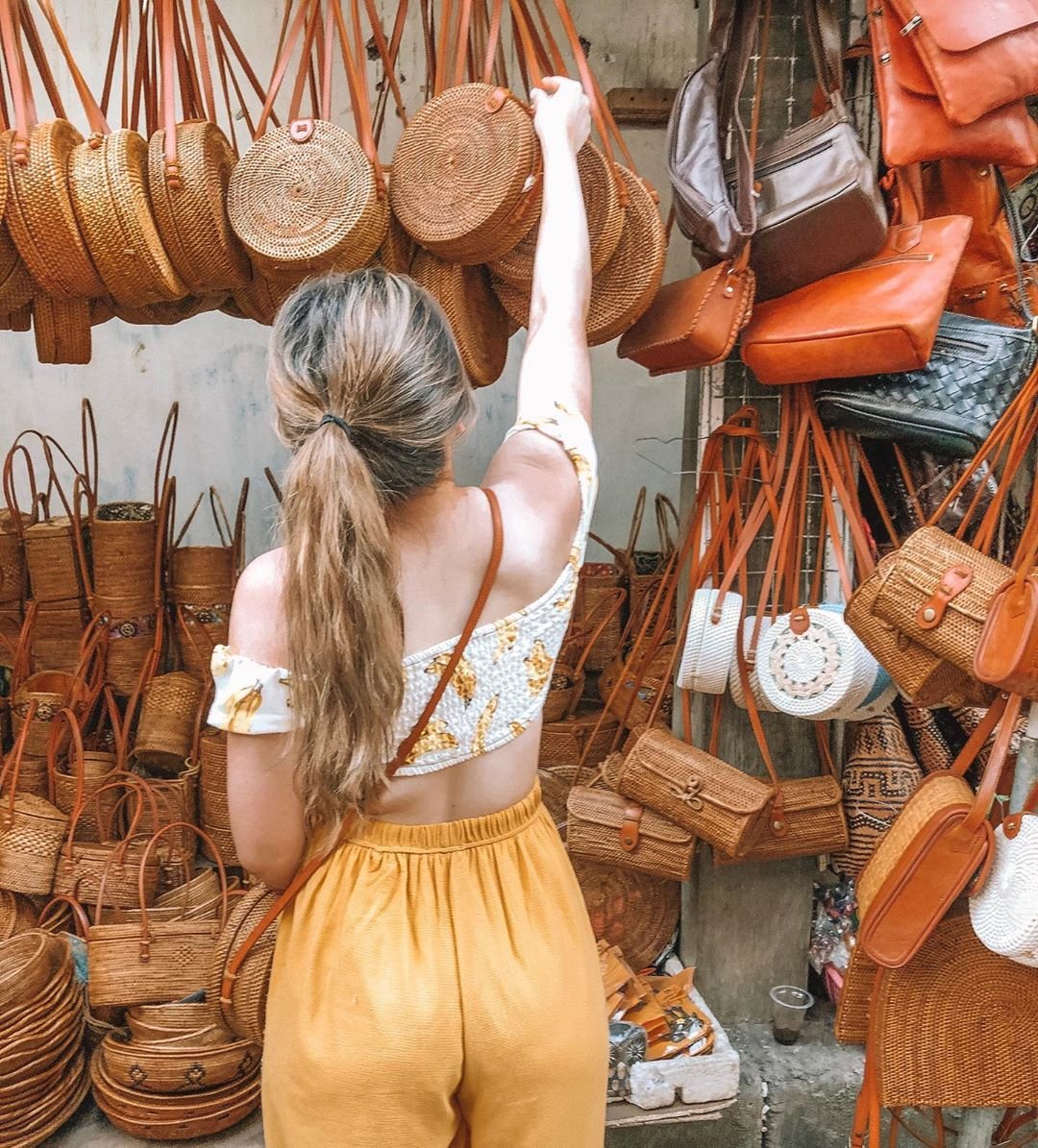 For those of you who like things that are traditional, it's a good idea to visit new tourist attractions in Bali such as the Ubud Traditional Market. At the Ubud Traditional Market you can find many rattan handicraft bags which are certainly nosy. If you diligently pay attention to Instagram lots of influencer and instagramer posts, the style of using a folk-style rattan bag is milling about to become a new fashion trend. If you happen to stop by Ubud, you can find this rattan bag at Ubud Art Market on Jalan Raya Ubud, Gianyar, Bali. Not bad for your family!
17. WEST BALI NATIONAL PARK

New Bali Instagram tour the most scenic spots tourist attractions in Bali in this vast hidden garden located in West Bali. The vast area of ​​77 hectares is not as beautiful as what you will see. Habitat and savanna, which occur because of the rest of the volcano, as well as hundreds of species of flora and fauna, to the sea and its waters are so beautiful to frame the whole. So, what are you waiting for, hurry and enjoy the beauty of this West Bali National Park.
18. DOUBLE SIX BEACH (DOUBLE SIX BEACH)

This tourist spot is indeed very popular among foreign tourists because of the very instagramable place. The most famous place is La Plancha which is quite well known in the mainstream. You can relax and enjoy the sunset while drinking fresh and enjoying live music. Double Six Beach is very loved by young people who bring couples to enjoy the beautiful beach
19. NUSA CENINGAN

New tourist attractions in Bali this time is Nusa Ceningan is a small island which is one part of the Nusa Penida group of islands. If you are in Nusa Ceningan, it's like Bali's maldives. There you can enjoy the beach and the natural atmosphere and the atmosphere of people passing by to Nusa Lembongan.
Here for the most tour booked 9 Best Bali Tours Activities You Should Try in Bali