30 Most Things To Do in Bali This Years – You Must See Guys
Never Visit Bali? This Is Best Of Bali Travel Destination! Who didn't know Bali? One of Indonesian best most beautiful place for travelling. In this article we will explain about many wonderful things to do in Bali and very beautiful place on the island of God. Don't ever miss out our recommendation friends. Because this will be an amazing experience in your life.
Hard Rock Kuta, Bali
Located directly across the street from the famous Kuta Beach. Hard Rock Hotel Bali is right in the heart of the largest entertainment area in Bali. With easy access to places of interest in South Bali and only 10 minutes drive from Ngurah Rai Airport.
Hard Rock Hotel Bali is the first Hard Rock Hotel in Asia offering 418 rooms and suites. The wall is decorated with pictures, memorabilia and icons that reflect the revolution that changes the face of music, fashion and art. Hard Rock Hotel Bali is a place where the tourist can enjoy the rock and roll atmosphere again!
Best Surfing Place on Bali
Beaches in Bali are good for surf spots not just Kuta Bali beach. In fact, there are many beaches in Bali that are very suitable for surfing activities. Both for beginners or those who are already proficient. Especially on this page, I will write one of the best surf beaches in Bali in the western part of the island. The beach name is Medewi Pekutatan beach.
Medewi Village has a very small area, and is very rarely visited by tourists. So almost the majority of tourists visiting Medewi Pekutatan village are tourists who want to surf. Then what about tourists who don't want to do surfing activities, is it worth visiting when on vacation in Bali?
Worth or not Medewi beach is visited while on vacation in Bali for those who cannot surf. The answer is very dependent on each tourist. If you want to see the original atmosphere of the island of Bali. Before the development of tourism as it is now, the village of Medewi Pekutatan is worthy of your visit. Because the rural atmosphere is so thick, the air is fresh and free from pollution.
Waterboom in Bali
Circus Waterpark Bali is the first family waterpark in Bali that offers fun water games at affordable prices. Its location which is close to Ngurah Rai International Airport with a five-minute journey.Makes this waterpark quite popular for local and international guests. Circus waterpark provides exciting and thrilling water games including Wave Slide, Spiral Slide, Lazy River, Trampoline and Speed Slide. Circus Waterpark is located at Jalan Kediri, Kuta, Bali. The design of the waterpark is designed to be enjoyed by adults and children so it is perfect for family recreation.
Ticket prices for Bali Circus Waterpark entrance tickets for tourists and KITAS
Adults: IDR 535,000 / person.
Children: IDR 385,000 / child (2 – 12 years).
Visit Uluwatu Temple
Dedicated to the spirits of the sea. This Uluwatu Temple is the architectural magic of black coral that is beautifully designed with spectacular views. This is a popular place to enjoy sunset. Famous not only for its unique atmosphere, Uluwatu also offers one of the oldest temples in Bali, Uluwatu Temple. Most districts in Bali have a temple (really high temples or ascension temples) which is the focus of the great pilgrimage for three or five memorial days.
Tanjung Benoa Watersports
TanjungBenoa is the name of a village in Badung regency, Bali. The location is quite unique because it is located at the narrow end that makes the beach waves so sloping or even no waves. Now because of the wave conditions like this, the TanjungBenoa area is very famous for its watersport.
There are 5 watersport games that can boost adrenaline and test your excitement. Namely jet skying, parasailing, flying fish, water skying, wakeboard. There are also 2 watersport games that make you fun and exciting, namely banana boat and rolling donut. For lovers of undersea marine tourism, try snorkeling, scuba diving, or seawalker. And for family tours, Turtle Island is the right place because you can enjoy turtle breeding sites that are protected by law.
Paragliding at Nusa Dua
Surfing in Bali is a common activity. If you want different and challenging things, you can try paragliding activities at Timbis Hill Bali. This is the best place to fly with a long radius for soaring (flying by soaring and exploring).
Timbis Hill is a favourite location for tourists who want to feel the thrill of paragliding challenging sports. Not only exercise, Evidence Timbis is also an ideal place for a vacation. The reason is, in addition to the thrilling sensation of paragliding. This hill also presents the natural beauty of Timbis Beach and the green hills. What a perfect dish.
Tegenungan Waterfall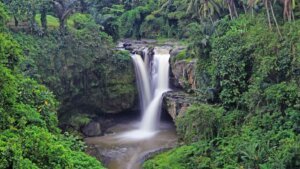 Tegenungan Waterfall, has a height of about 4 meters, but has quite a lot of water. Waterfall discharge will be very large during the rainy season. Which is the range of December to February. At the bottom of the waterfall you will be able to find a small area like a pond. The water in the pool is very clear and suitable for those of you who just want to play water or take a shower. But during the rainy season, it is recommended that you do not try bathing, because the water discharge is very large. Besides being able to see the view of the waterfall, at the location of this waterfall, you can also see the temple and the water from the spring.
Bali Safari Marine Park
If you vacation in Bali with children, don't miss to visit Bali Safari Marine Park. Because this tourist spot in Bali one of the best things to do in Bali, provides the best safari experience for you and your child. Bali Safari & Marine Park is also called the Bali safari park. One of the favorite tourist spots on the island of Indonesia and is very popular. Bali safari park attractions, providing a place for wild animals in their natural habitat.Are built with a blend of Balinese culture and suitable for visits for all ages.
Bali safari parks are owned and managed by Indonesian safari parks. Are well-known experts in animal conservation and are famous for organizing exhibitions and animal shows. Indonesian safari park, having more than 20 years experience in providing safari park rides. This experience makes Bali safari park, one of the best safari parks in Indonesia and a tourist destination for children in Bali. And the best family vacation on the Dewata island.
Tirta Empul Temple
The gurgling of water flowing from a chunk of conch-shaped stone and filling the petirtaan pond is the main attraction of the TirtaEmpul Temple. Being at an altitude of 700 meters above sea level makes the complex of this holy spring has a cool and reassuring air. In this place you can contemplate and wash yourself.
Mount Batur Sunrise Trekking
The beauty of sunrise that is seen from above Mount Batur makes this mountain famous among domestic and foreign travelers. The mountain which is the icon of Bangli Regency, Kintamani is also one of the largest mountains in the world. Because it is a volcano that is still active, the peak of Mount Batur is always seen covered by smog. However, the haze did not reduce the beauty of the scenery. Sunrises remain champions and become the idol of tourists. But it takes a struggle to be able to reach the top of Mount Batur and enjoy the beauty of the sunrises. The climbers usually start climbing from Toya Bungkah Village.
Mount Batur sunrise trekking to the top оf аn асtіvе vоlсаnо, jоіn and enjoy the best experience. The раrt оf
Based on historical stories, Mount Batur is said to be the peak of Mount Mahameru/ Which was moved by PasupatiBathara to be used as a palace for Dewi Danu. Because of this, ceremonies were held in this place to offer offerings to PasupatiBathara and Dewi Danu. Local people believe that by giving these offerings, they will bless the population with soil fertility in the village around Mount Batur.
Snorkling at Blue Lagoon
Most visitors to this beach are foreigners, and only a few local people are on this hidden beach. Many activities you can do if you visit the Blue Lagoon beach. Among them are playing sand, swimming on the beach, or just sunbathing.
In particular, this place is also a favorite location for tourists to snorkel. The beauty of fish and coral reefs on the beach is indeed able to conjure anyone to keep watching. When you see the underwater charm you can find murray, morish idol, cows, and sometimes turtles and even reef sharks.
When the waves are not high, visibility is only 1-3 meters. It is recommended if snorkeling is best done when the waves are subsiding to avoid a fairly strong current considering its location in the Badung Strait. So, you have to be careful and always prioritize safety while watching the beauty of the underwater world in the waters of Blue Lagoon Beach.
Gate of Heaven Lempuyang
Bali island has a lot of interesting photo spots and of course gives amazing photos if the shooting angle is right. Especially if the selected photo spot is natural and beautiful natural scenery. One of the photo spots in Bali that is liked by many tourists is Pura Lempuyang.
This 4 meter high gate is a favorite photo spot and if the photo is taken right, the resulting photo is in the middle of the gate that looks like Mount Agung in a precise size. Not infrequently also visitors come in the dark to wait for the moment of Mount Agung's hot lava that shines in the dark.
Some people consider the moment of hot lava to be frightening. But for some others consider it as a rare moment with magical scenery. The distance of Lempuyang Temple with Mount Agung is included in a safe radius of 19 km.
Dive at Tulamben
One of the tourist attractions in eastern Bali that is very famous for the beauty of underwater scenery is Tulamben Bali. Because of the beauty of the underwater scenery, Tulamben is the best destination for snorkeling and scuba diving on the island of Bali. The livelihood of Tulamben Village residents is mostly as fishermen. There are also some who work as farmers, traders, construction workers, civil servants, and work in tourism.
Tulamben Bali is a small village located northeast of the island of Bali. The location of the Tulamben village faces the Lombok strait which is very rich in marine biota. Tulamben Village is included in the Kubu District, in the northern part of Karangasem-Bali Regency.
Trekking Jatiluwih Rice Fields
Jatiluwih is a village located in PenebelSubdistrict, Tabanan Regency, Bali. Precisely at the foot of Batukaru Mountain with an altitude of 850 meters above sea level. Who have vacationed in Bali may already know its place. This place is also close to the Bedugul tourist attraction which is approximately 20 minutes east of Bedugul. From the Kuta area, Sanur is approximately 1.5 hours and 2 hours from Nusa Dua.
Jatiluwih is currently one of the world heritage protected by UNESCO because of its natural preservation, especially its traditional irrigation system known as "SUBAK" in Bali.
Jatiluwih village is a tourist area owned by Tabanan district because it has plantation land and rice fields that are terraced. So that it will see beautiful rice fields to be seen especially in the afternoon before sunset.
Ulundanu Temple
UlundanuBeratan Temple, or which is often abbreviated as Pura Ulun Danu. Is the largest temple in Bali after BesakihTemple. The name of this temple refers to its location which stands on the edge of Lake Beratan. The location of this temple is quite special because it is located in the Bedugul plateau. Which is about 1,239 meters above sea level. Such conditions make the temple environment quite cool, with air temperatures between 18-22 degrees Celsius. In addition, the beautiful Beratan Lake landscape also adds to the beautiful atmosphere in this place.
Ubud Market
This market is located in the center of Ubud area, precisely on Ubud main street, Gianyar, Bali. The location is very strategic, right in front of the Ubud King's Palace called PuriSarenUbud. If you have seen the film Eat Pray Love starring Julia Roberts in 2010. One of the scenes is in the area of this Ubud Traditional Market.
This market entrance besides wide is also clean. There are various souvenir sellers on the left and right of the road. If you decide to go further into a deeper area, the market footpath seems to be shrinking, but still comfortable to explore.
Ubud Palace
Located not far from Denpasar, PuriSarenAgung is often a destination for local and international travelers. Located at Ubud, Gianyar, Bali, it is not far from Pura Saraswati. The palace which witnessed the glory of the Kingdom of Ubud, which ruled Bali began in the 17th century. Today, this Palace is functioned as a museum and center for traditional Balinese art.
Purity, uniqueness and high aesthetic value make this Palace never run out of visitors. Ubud Palace or PuriSarenAgung due to a brother conflict in the Ubud area in the 15th century. This conflict caused a power vacuum in Ubud until TjokordaPutuKandel came to lead Ubud. TjokordaPutuKandel began to lead Ubud until finally building the PuriSarenAgung Palace.
Ubud Palace is often also called by the name PuriSarenAgung. In Bali, the word "Puri" means the residence of nobles, especially the king and his family. If it is associated with the caste system, the castle is the residence of the Balinese who are a Knight .So that the existence of the castle is the identity of the ruler in the area.
Bali Zoo
Approximately 350 types of animals have become collections from this zoo. 350 of these animals include mammals, poultry, reptiles and rare animals from outside and within the country. This zoo guarantees you will not be disappointed if you visit for a tour.
In addition to vacationing, you can make Bali Zoo Park a playground for your baby. Spacious places and shady spaces make you comfortable to play in this zoo area.
The zoo area is also equipped with several games that can stimulate the adrenaline of visitors. One of them is Tree Walk Adventure. This game arena is also equipped with flying fox game suitable for visitors who want to play with challenges and adrenaline.
Monkey Forest Ubud
This Monkey Forest has an area of about 8 hectares. Therefore, visitors are not allowed to do bad things in this holy place. To enter the area, visitors must pay Rp. 10,000 for adults, and Rp. 5,000 for children.
Visitors do not need to worry about accommodation problems, because there are many hotels and villas in Ubud. There are also Bali tourism facilities such as restaurants, spas, art shops, and so on. Some of the best Ubud hotels are Villa Sujati ,Kenanga Boutique Hotel , and Bidadari Private Villas & Retreat.
White Water Rafting
White water rafting in Bali is an activity of water sports that are quite spurred adrenaline. The list of best thing to do in Bali. The form of this activity is to follow the flow of the river or rapids that are heavy by using a small lifeboat. This activity has become the latest tourist destination. Because usually the river that passes through looks so beautiful with rocks in between the clear water and around the river is a lush forest.
Ayung River has special features compared to other rafting locations or rapids. Because this river is filled with plants so that it shows a very beautiful view. This location is also close to the stretch of rice fields.
Best White Water Rafting Bali - More Challenging & Adventurous on Bali's longest River Rafting in Bali is famous for
Elephant Sanctuary
One place that provides elephant riding tourism facilities in Bali is Taro Elephant Safari Park Ubud. The address is on Elephant Park Taro Street, Taro Village, Tegallalang, Ubud Bali 80561, Indonesia.
If you depart from Ubud tourist attractions , it will take 40 minutes. Estimates with a distance of about 18 kilometers. Bali elephant safari park Taro has an area of about 3.5 hectares, really big! For your information, the Taro Bali elephant park has received many international and national awards in providing elephant tourism activities in Bali.
Taro Elephant Safari Park Ubud was officially opened in 2000 by the minister of tourism, and a member of the World Zoo Association. Elephant riding activities in Taro Bali have fulfilled international security and safety standards. So you don't have to worry about safety when you take part in an elephant riding tour in Bali. Besides you ride an elephant, you can see natural scenery
Atv Ride
ATV Adventure Tours in Bali offers a program to ride a four-wheeled motorcycle with a challenging route. During this program, you will ride an ATV and follow the flow of the river. Through the surrounding bushes where there are many animal around it, including monkeys, birds and many others. After finishing crossing the river, the adventure will be continued to areas of agriculture and plantations. Here you will be able to observe closely the local farmers cultivate the land and work in mutual cooperation. After that, you will enjoy the atmosphere of the local village along with the residents and their daily activities.
Bali ATV ride / QUAD bike tour provides an extreme, sensational, beautiful, and safe adventure tour.
Tanah Lot Temple
Tanah Lot Temple which is located on the beach side of the village of Beraban, Kediri District, Tabanan Regency. Tanah Lot means small island floating in the sea. The location now referred to as Tanah Lot has been used in the Megalithic period as a holy place, as evidenced by the presence of menhirs. Based on environmental conditions, the structure of Tanah Lot Temple was built on a regular corner of the coral plain which consisted of only one plain yard as Offal.
Tanah Lot Temple is located at 30 km on the west side of Denpasar city and around 11 km south of the city of Tabanan. This temple is built on a stone with a size of 3 hectares and can be reached in a few minutes by foot. Because it is only 20 meters from the beach.
Horse Riding
Horse riding tours in Bali are in demand by tourists, especially by travelers from abroad. Especially those of you who want to get new experiences and have often been to Bali. So this horse riding activity will be the most ideal choice.
Saba Beach is a coastal area located in Gianyar Regency. The beaches are black sand, the nature is still beautiful, the atmosphere is calm, presents a different atmosphere. When you are saturated with the hustle and bustle of the city. Saba beach will be able to provide a sense of relaxation in enjoying tours with family or beloved partner. The natural atmosphere of the Saba beach that supports this makes it an ideal choice for participating in horse riding activities in Bali. Riding a horse, while relaxing to enjoy the surrounding nature.
Potato Head Beach Club
Potato Head Beach Club is a popular travel destination in Seminyak. Offering a beautiful view of the blue ocean.Besides being famous for its views of the sea and private beach. Potato Head Beach Club is also famous for its unique architecture.
The entrance to the main beach club room is connected with a small hallway on one side decorated with greenery. Potato Head Beach Club collaborates with local architecture such as Andra Martin and art designer EkoNugroho to design this beach club building. This Potato Head Beach Club is like a million windows building. Although the window that adorns the walls does not function as a "window" in general, but still adorns the wall.
Skygarden Bali
Holidays in Bali if you aren't try nightlife in Kuta is a loss. Because there are many cafes and night club in Bali. Especially near Kuta beach precisely on the streets. As in the most crowded Sky Garden discotheque. Who doesn't know this one night club? Sky Garden is still a night club No. 1 in Bali, especially in legian areas. This club has 4 floors with each floor having different DJs and music genres. For you young people, the most exciting is usually on the top floor (rooftop garden lounge). The song is RnB, electronic dance music or EDM, techno , house music and many more. Sky Garden has also been included in the list "1oo B Night Club in Bali" with the 88th best place in the world. Sky Garden also often invites famous DJs such as Steve Aoki, Marshmello, and many more.
Bali Swing
Swing Bongkasa Pertiwi itself is a new recreational vehicle located in the village of Kec. Abiansemal, Kab. Badung – Bali. The distance from Denpasar is around 24 km while the distance from downtown Ubud is around 13 km. Bali Swing offers adrenaline-driven adventure tours. There are 4 swings with different swing heights. Swinging sensations, floating and sliding back and forth for several minutes above altitude can provide different sensations and experiences.
From that height you can also enjoy the surrounding natural beauty, tropical trees, coconut trees, Ayung river flow and cliffs offering interesting views rarely can you see, unless you enjoy it from Bali Swing. This new tourist attraction in Bali is the only highest swing at the moment, which can complement your holiday needs. Only one pay can you enjoy the sensation of 4 swings provided on the Bali Swing. Managers are very concerned about the safety standards in this game, so you don't have to worry, let alone be served by friendly and friendly staff.
Bali Bird Park
Bali Bird Park is a bird park for recreational tourism in Bali. Where it is located in a very strategic area. Namely in Singapadu Village, only 5 minutes from the Barong Batubulan Dance cultural attractions, Gianyar. So for tourists who want a recreational tour, especially with family. Then after watching Barong Dance can continue to Bali Bird Park. Various types of birds that are well maintained in this place make a tour that can increase knowledge about each habitat. More than 1000 birds with more than 250 species that are preserved and preserved in Bali Bird Park. Not only family tourists, couples or tourists who visit this place, but some schools, and companies for outing or gathering events also come to this place for an event.
Dolphin at Lovina beach
Lovina is a tourist attraction in North Bali, precisely in Buleleng regency. This area is famous for its beaches, and also dolphin viewing activities in the morning. Maybe in Bali, it's only in Lovina that we can see dolphin attractions off the coast. So this is naturally not 'artificial' like in the room.
The cost of seeing dolphins in Lovina is the price charged per person to see dolphins off Lovina beach using traditional boat. Now with jukung that will be driven by one person, we go to the middle of the sea in the early morning around 6 o'clock. Continue to see dolphins around 8 o'clock. So for those who stay in South Bali, especially Kuta and surrounding areas. It is recommended that 2 or 3 o'clock in the morning have already slid to the location.
Visit Rock Bar Bali
Although Rock Bar is part of Ayana Resort & Spa, but this place is also open to the public, to come to this place do not have to pay for tickets or admission tickets, it's just that you are required to buy food and drinks whose price range is from the cheapest 50,000 until 600,000.
The menu here is very tasty, the mainstay menus include: King Prawn Saganaki and Chicken Popcorn, the Rock Bar is open from late in the evening and for this place we have to wear polite clothes, not allowed to wear shorts, singlets or clothes who has an alcoholic drink label.
That's some recommendation the best place or things to do in Bali when you holiday there. All that's place can make your sad gone. Make your happiness come again. And can make your live like full again. So, what are you waiting for? Please check also our transportation offers, explore and create special trip experience with Bali Ventur.