Canggu Bali,Ultimate Travel Guide – Things To Do, Eat & Where To Stay
For relishing the calmest atmosphere and quieter surroundings, Canggu is the place to go. This coastal village is nestled on the north of Seminyak and on the south east of Tanah Lot district. Can be reached within 40 minutes driving away from Bali's international airport, Canggu Bali  still showcases the genuine Bali's nature through the enchanting terrace rice field right down to the beach, made more perfect by the rural surroundings. In addition, Canggu is within 20 minutes driving from the sophisticated neighboring area, Seminyak. Moreover, what makes the expatriates love staying in Canggu as it offers short proximity to the areas nearby, including to the popular Canggu Club and International school.
Nowadays, Canggu Bali is highly famous because of its properties such as beachfront resorts, Bali private villas, cottages, hotels, and also long-stay residences for expatriates. These Bali luxury villas offer various styles and surrounding views, from beachfront, oceanfront, within walking distance from the beach, displaying the rice fields, or walled with the beautifully-manicured tropical gardens. Most Bali villas in Canggu are attached by alang-alang Balinese roof, ornately carved pillars, day bed, gazebo, private swimming pool, and the most important of all, each villa Bali in Canggu uses the traditional elements of Bali mixed by modern comforts and the latest technologies, resulting in a dream retreat for connoisseurs and tropical style lovers all over the world.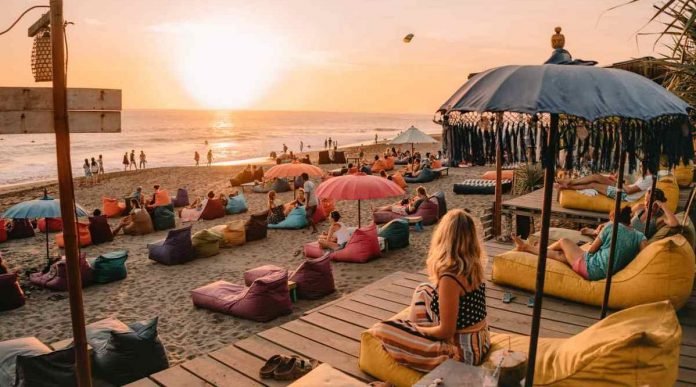 Canggu Club is one of the must-visit places in Canggu. Almost all the Bali luxury villas in Canggu possess membership of Canggu Club and offer free access to enjoy all the services with no charge in this prestigious entertainment center. With the professional and seasoned staffs and attendances, this club is where the guests of Canggu Bali villas or the expatriates may enjoy the full recreations, wellness,sports such as tennis, squash, kids' services, library, pool, kid splash pool, library, and dining. The club makes it perfect for family holiday, for fun and enjoyable vacation at Canggu villas Bali. Established in 2006, Canggu Club is within steps away from the Bali private villas which are nestled in this calm area.
Canggu is heaven for surfers, both novice and professionals from all around the globe. While staying at Canggu Bali villas, the travelers will be enticed to surf or at least, to learn surfing. The best surfing beaches in Canggu are many, but the most popular ones are Parerenan Surf Beach, Seseh, and Echo Beach. These beaches are frequently surfed due to the huge swells creating some of the most spectacular surf breaks. Apparently, anytime, anywhere, anyhow, there will always be the perfect waves to ride by the surfers. Accordingly, Canggu Bali is always the number one destination for the travelers who love surfing and sunsets.
Your appetite while staying at Canggu villas Bali would be always pleased. Canggu has numerous Oceanside seafood restaurants. Echo Beach provides many favorable restaurants, might be one of the best restaurants on the island. A wide array of fine dishes using the fresh top-quality ingredients, from Balinese, Thailand, Spanish, Italian, French, to Japanese dishes can be fully enjoyed in open-air restaurants, representing good value for money. The traveers who stay at Bali luxury villas in Canggu can always try the one that will delight their appetite with tantalizing foods. At the end, we know that you will be spoiled for choice whenever you chill out and eat out in Canggu's best restaurants.
Ultimate Travel Guide To Canggu, Bali: Things To Do, Eat & Where To Stay
Canggu is transforming into a full-blown Bali hotspot. I witnessed it for myself during my recent visit on the paradise island the gods.
This guide to travel in Canggu has continually updated to reflect all the latest hotels, cafes, and developments around Canggu Beach and Canggu Main Street.
This travel guide for Canggu I hope to provide you with an overview of the things Canggu is like and what you will encounter when visiting this tiny slice of paradise.
Be kind and cherish the place just as I do!
What's Canggu Really Like?
In truth, when I first came to Canggu at the beginning in 2016, I believed it was already more advanced, but it was not and it was a pleasant experience after having stayed in other areas of Bali.
At the time there was a lot of roads that weren't paved Canggu.
Today, roads with no pavement are decreasing in number and pedestrian footpaths are becoming an actual thing in the present!
Then there's an washed-out, uneven Canggu Shortcut (Google it, you'll be able to see the pictures and understand what I'm talking about!) which connects Batu Bolong to Batu Bewara. This is absolutely unique.
There aren't many resorts that have beachfronts in Canggu like you'll find adjacent to Seminyak, which is more elegant Seminyak.
Canggu definitely has a hipster vibes with some beautiful aspects.
It's fast becoming the full-on Bali tourism destination. But, I do hope Canggu keeps its charm of a small town!
Canggu offers everything It has cool cafes in Seminyak as well as the wealth of healthy foods in Ubud ( OMG, Canggu is now offering an culinary tour!), the lush green areas of the Bali's interior and the long beaches for as far as one can see.
Is Canggu The 'New Seminyak'?
Canggu isn't in the spotlight for a long time but is fast becoming a destination for those looking for something different from Legian and Seminyak which is also more close towards the beaches, than those cool mountains in Ubud..
Bali's most popular tourist hotspot Canggu is especially popular with expats and digital nomads, that is evident in the numerous modern villas popping in amid the lush rice fields as well as the many new cafes that were started by people from other countries.
Some have even dubbed Canggu the "New Seminyak'.
How Do You Get From Canggu To Seminyak?
From Canggu you can walk to Seminyak by walking along the beach. It takes approximately 40 minutes, depending on the speed at which you are.
If you end up stuck in one of the tiny bars on the way. Don't think I did not warn you!
From the main street in Canggu Batu Bolong into the heart of Seminyak is about 20 minutes via automobile. Hire a taxi from the hotel or hire scooters if you are at ease driving one.
If you depart at Berawa to Seminyak the distance is about 10 minutes drive.
In the direction of Canggu from Canggu to Legian it's a little over an hour and a half drive.
You can get to Kuta from Canggu in just 30 minutes.
The Best Time To Visit Canggu, Bali
There's no better time to visit Bali. Bali.
It is possible to visit any time as the weather is tropical and has the temperature reaching highs all year long. Although a few variables could impact your decision.
The peak tourist season typically falls between the months of July and August. There are numerous Australians travel to other countries since it's winter however, the time between the months of summer is more enjoyable, such as June, May, and September.
It's dry season, meaning it's less humid, and the prices for lodging are less expensive than the high season.
From October until April, you'll be experiencing the rainy season. keep in mind that there may be brief rains and wet feet.
But, even during the season of rain it is possible to enjoy warm, sunny days! The beaches are more soiled than in dry seasons since trash is often carried away from the rivers that flow into the inland and back to shore, along with wood chunks and plastic are a particular issue.
If you'd like to help cleanse the beaches around Canggu There are often scheduled clean-up walks and I'd like to suggest you participate whenever you are able! It's pretty cool to meet new people in this area too.
Another aspect to be aware of is the Bali's celebrations and events including the "Day of Silence" as an instance, which is or Nyepi. the entire island is still (and darkness!) for 24 hours in celebration of the beginning of the Saka New Year.
It's a time of contemplation, fasting and contemplation to Balinese Hindus but affects foreigners and tourists alike, as all activities are closed down and nobody is allowed to walk on the beach or on the streets The airport, too, is shut.
Orientation: Canggu Main Street & Areas
Canggu is located about 20 minutes to the north of Seminyak. The drive between Canggu from Seminyak is straightforward and you can choose to hire a taxi or take on a scooter.
Be aware that the main highway is a major source of traffic, based on timing of day.
Canggu is a tiny coastal village that is surrounded by the ocean. It consists basically of three running villages that have their individual beach areas: Berawa Beach, Batu Bolong and Echo Beach, bordered by an even larger and extremely busy road known as Jalan Raya Canggu to the north, which is about 5km further farther inland.
From there, there are three main roads running in a parallel fashion, making up Canggu:
Jalan Panai Batu Borlong (the main street in Canggu also known as Canggu City Center)

Jalan Pantai Berawa and,

Jalan Padang Linjong
Then there's Pererenan One of my favourite places because I lived there at the close in 2017 for quite a time.
Pererenan is located a bit away from the bustle of Canggu but is still close to everything. It's definitely more quaint and is a fantastic location to stay in when you're located in Canggu for a few days and prefer it to be more relaxed and less touristy.
If you've heard about Kerobokan is a region situated to the east from Canggu and a little further inland that is easily accessible towards Seminyak as well as some new villa and restaurant developments appearing.
How To Get Around Canggu
Because the three main streets in Canggu run parallel to the beach but lack connecting roads, there's always an inland detour to the famous rocky "shortcut" or a few other streets.
The most straightforward way to travel between different areas is walking on the shore. This means you can take the shoes off and just walk.
Alternatives To Getting Around Canggu
Alternately, if you're not planning to drive yourself, then download the Go-Jek app which allows you to go "Go-Ride" and get an driver (scooters only) or Grab Taxi is another great app for finding taxis.
Uber is also available, but it is not widely available and numerous locations in Bali including Canggu are trying to limit the use of these services. You will find large signs that state that they're not permitted.
I'm guessing that this is an opportunity to protect local taxi companies. It's better to choose a reliable driver that to call you back and again since it could be a problem using any ride-sharing application.
Hiring A Scooter In Canggu
However, I would suggest hiring the services of a scooter. It cost me 500.000 Rupiah for a monthly rental, and I had an old one, however it can vary and anywhere between 600.000-800.000 Rupiah is normal for the monthly rental cost.
If you prefer, you can take a car rental with a driver for a ride around. Most hotels have their own chauffeur or someone they contact when you inquire about the matter.
The streets in Canggu aren't as crowded than Seminyak or Kuta however every time I return, they're getting more crowded.
The shortcut in particular is a problem on a scooter , especially if you aren't used to driving prior to.
Also, when it rains, streets can be easily flooded. Be careful!
Taking A Taxi In Canggu
A few taxis in local stands scattered about, but it's hard to find one in the street because they aren't any in a mass, particularly when you're in a narrow street off to the side.
You should try to find one of the blue Bluebird Taxis as they are generally regarded as being honest and run on the meter. Taxis from other companies can be more difficult in Bali's corrupt taxi business.
A taxi ride to Canggu for the international airport of Kuta with the Bluebird Taxi should cost you approximately 120.000 Rupiah. This can vary based on the timing of the day and traffic conditions.
Supermarkets In Canggu
Just next to it, on the opposite direction of the street you will find my preferred grocery store in the area, Canggu Deli Station ideal for essential local and international grocery shopping. There's a bakery section also, and they sell dark bread , as also pretzels (for those with German desire) as well as cakes.
In the same direction as the main road After two turns, you'll arrive at Jalan Subak Sari, the road that leads to Seminyak and there is an even bigger Pepito supermarket too, which was opened in the year 2016. Google maps did not list it for a while, but it is now possible to find it. Whatever way you go, you'll surely spot it due to its vast car park as well as the large sign in orange and green as you head towards Seminyak.
There's also a Pepito Supermarket on Batu Bolong heading inland which is very convenient as well.
Best Luxury Accommodation In Canggu
Ametis Villas
Hidden away, but only an easy walk away from Canggu's beaches There's the extravagant Ametis Villas. If you're looking for an excellent location to stay in the middle of Canggu and the surrounding area, you can't pass by Ametis Villas. You can enjoy your own pool, 24 hour private butler service, and lush tropical gardens surrounding the home.
You can expect a spacious living space that overlooks the pool. It also has a beautifully decorated bedroom that has a spacious bathroom with a stunning bathtub. What more could you possibly want!
Villa Berawa
Enter beautifully pastel decorated rooms that come equipped with air conditioning and flat-screen TVs with a minibar, seating area and a sofa. Relax and enjoy the peaceful views of the pool from your private terrace. Some villas have an outdoor pool that is private.
From here, it's a six-minute stroll towards the ocean as well as Finns Beach Club. Enjoy a meal at the hotel's restaurant that is surrounded by tropical plants or take the complimentary shuttle service to Seminyak.
COMO Uma Canggu
One of the newest developments that has been added to Canggu can be the COMO Uma Hotel. Modern accommodations with luxury amenities right on Echo Beach with incredible friendly and accommodating staff. It's located in a fantastic area with a gorgeous pool and lush greenery throughout.
Just next door right next door is COMO Beach Club with panoramic views of the ocean that appeal to both sophisticated and surfers. Have I mentioned the swing chairs?
The Haven Suites Bali Berawa
Are you looking to spend a lot on a lavish suite with chic wooden furniture few minutes from Berawa Beach? It's the Haven Suites should be your choice!
Each room is equipped with views of the pool or ocean. Each room has an individual bathroom, television, and some have additional seating space and an exquisite bathtub.
Looking For The Most Romantic Place To Stay In Canggu?
Canggu isn't just an ideal spot for yogis, surfers and foodies, but also an ideal destination to honeymoon or for couples regardless of whether you're seeking to relax with your partner or plan an active, romantic escape.
Hotel Tugu Canggu
The most beautiful spot to enjoy a romantic time with your partner can be Hotel Tugu, located right on the beachfront at Batu Bolong Beach, so you have the ideal of both worlds, the peace of a peaceful location to relax while right in the middle of the action of Canggu.
Take a bite in any of five in-house restaurants themed or avail the spa's holistic services. When the sun sets, climb to the top of Ji Restaurant which is forms part of the hotel to enjoy a spectacular view of the sunset. You will not be disappointed at Ji Restaurant!
Mid-Priced Accommodation In Canggu
Tapa Tepi Kali
Nearby to the gorgeous Samadi Yoga Studio, Tapa Tepi Kali is located among the less crowded regions of Canggu and is just a 10-15 minute stroll away from Echo Beach.
WiFi is available for free as well as TV, and all the rooms have air conditioning in Canggu. Relax in the pool or garden views from your rooms or plunge directly into the blue. The hotel also offers fitness facilities and a an open-air front desk that is available 24 hours a day.
The Kirana Hotel
The atmosphere is relaxed and far from the crowds of tourists, there's Kirana Hotel right near Batu Bolong Beach ideal for anyone who wants to be near the beach and the popular surf breaks. The hotel has an infinity pool with a restaurant, gym, and yoga decks as along with a terrace for sunset. The Balinese staff are very welcoming and accommodating.
I thoroughly enjoyed every moment I spent I spent in Canggu and I'm sure I'll return. It's amazing to see it grow so fast. I hope that it stays this tiny tourist town for many years to be!
Ecosfera Hotel
Ecosfera Hotel lies tucked away close to Dojo Coworking Space and a only a few steps to Echo Beach. It features a stunning, contemporary Balinese interiors, a stunning outdoor pool that is surrounded by natural greenery , and daily yoga classes, there's anything more you could ask for!
Choose between garden or ocean-view rooms. There's also a charming tiny cafe named GreenSpot Cafe that serves healthy local and vegetarian dishes. The Ecosfera hotel Ecosfera is definitely a good value for the money!
Best Budget Accommodation In Canggu
Friends House Bali
The air-conditioned guesthouse is situated on the main road of Berawa Beach, not far from Finns Beach Club, as well as the local cafe scene.
Clean cheap room with bathroom, TV and internet access for free, making it simple to stay there and feel like you're at in your own home. There's also a kitchen shared with guests that available, which is great to use if you're staying for a short time and you want to purchase some things from the local markets and Canggu Deli Station which is just a few steps away.
FRii Bali Hotel
My dear friend Jayne was a guest at the hip air-conditioned Frii Bali Hotel in Echo Beach and we had a great time. We hung out several times for meals (of of course!) and she informed me that she was very impressed with Frii Hotel and felt it was an excellent value for money.
I finally had the opportunity an opportunity to enjoy a stay in Frii Echo Beach also, you can read my full Hotel review below: Enjoy a stay in the heart of Canggu in the FRii Hotel Echo Beach.
It's just 5 minutes away from the beach, and it has the rooftop restaurant and the pool down below. Some rooms open directly towards the pool, which is very nice! It's a great hotel in Canggu for solo surfers as well as travelers.
Koa D Surfer Hotel
The boutique hotel is an awesome hotel to stay in because of its natural bamboo exterior, it's easy to overlook. I really like the wood furniture inside, as well as the colorful decorations and paintings on the walls. It's very cute and affordable. It's a very young crowd that is staying in this.
I stayed here for 7 nights and was incredibly happy with the location. It's easy to walk towards Berawa Beach, the supermarket Canggu Deli Station is not far away, and there are some cool cafes in the area such as Ruko, Cinta Cafe and Milk & Madu, which are walkable.
It is always a good idea to have a scooter however to reach Batu Bolong and Echo Beach however you can walk along the beach as well. They offer a beautiful view of the pool from their rooftop as well!
Canggu Village Accommodation at Alternative Beach Club
When I was last in Canggu I came across Alternative Beach Club, which is situated at the end of a tiny street leading out of Batu Bolong and offers private rooms, along with hostel-style accommodation with an outdoor swimming pool, beach vibes and an incredible pool party on Thursday and Friday.
There's also an exercise studio offering yoga classes at no cost and a café overlooking the pool with a the slide and a swim-up bar. FUN! It's possible to reserve a bed for the day and hang out for the day, even if you are not staying as a guest.
This location cannot be found through Booking or Agoda and you'll have to book directly through the website.
How To Rent A Private Villa In Canggu
If you are looking for a house locally I would suggest searching the Canggu Community Facebook group, as well as the Canggu Housing Community.
There are a lot of deals, so take a look around before you decide to make the move. Of course, it is your choice to bargain the price in person with the landlord once more.
I believe you can get an acceptable apartment in a villa for about IDR 4.5 up to 5.5 mil per month. higher priced and more extravagant is possible, as well as less expensive and basic, but this is a good indicator to find a good home.
Finding An Airbnb In Canggu
It's always a good alternative, no matter where you live.
There are a lot of great accommodation options on Airbnb in the city of Canggu and you could reserve a few nights as a start point in case you plan to stay for a longer period and wish to research all the options in the field.
Where To Eat, Drink Good Coffee & Find Wifi In Canggu
There are a lot of delicious options for food enjoy great coffee and connect to Wifi across all of Canggu. Here are my top choices.
Peloton Supershop:I am not vegan but this cozy cafe completely blew my mind. I was enthralled by the delicious vegan meals made with localand fresh ingredients. From the breakfast menu to breaks for coffee, lunch and dinner there's sure to be something for everyone there!
Gourmet Canggu: A great local casual dining cafe. Take a bite of the Bun Bo, Thai Green Curry or the Rosemary Burger, soo good! Add the Apple Crumble and you are all set for the day. Affordable prices to Western cuisine in Canggu!
Milk & Madu Cafe:A local outdoor cafe that is particularly well-known for brunch and breakfast However, they are available for lunch and dinner. Be sure to try the pizza baked with lava stones. They also serve Nalu Bowls in addition to their breakfast bowls that are super and fantastic coffee from Revolver and is a great coffee shop in case you are within Seminyak. Internet is very reliable here. There's also an Milk & Madu Cafe in Ubud right now! !
Crate Cafe:From its humble beginnings, Crate Cafe has moved to a new site and has a massive space across Batu Bolong Road. Breakfast and green smoothies are served throughout the day, plus you can also eat lunch! No printed menus only what's displayed on the big whiteboard in front of the counter. Great place to sit for people-watching and a strong cup of coffee. There is also a tiny concept store here that showcases the top Bali-based designer brands.
Satu Satu Cafe:A recent discovery of mine when I was looking for a good WiFi in Berawa. It is perfect to work on your laptop for a while, excellent coffee and other bakery items. I like eating the Smash Avocado and Chicken Panini. The space is smaller and I've required sharing tables however, the staff are super accommodating. There are many people who have laptops in the room.
Betelnut Cafe:You haven't been to Canggu If you haven't been at Betelnut Cafe! Salads and wraps are fantastic, and so is the cheesecake that's always on offer in many varieties! Small interior with air conditioning downstairs, or the rustic upper open-air terrace Your choice!
Roti Canai:Next to Betelnut Cafe there's Roti Canai, my go-to spot for all things Roti. From nutella to savoury There are a variety of flavors to taste. They also have Indonesian foods, Sate, Salads too. I also like the home-cooked pie, definitely worth trying! The best prices are available here.
Poke Poke: Hawaii in Canggu? Yes, you can find the same here! The Ahi Poke Bowl is a traditional Hawaiian dish made of cooked yellowfin tuna loins along with ginger, onion, soy sauce, scallion along with sesame oil. There are a variety of flavors, all super delicious! Inside, it's connected to Roti Canai. And don't forget to check out the incredible swing inside the restaurant!
Ruko Cafe:A popular pit-stop for breakfast, and a great place to let your creative juices flowing throughout the day. The interior is elegant as is it's Acai along with the Bircher Bowl unbeatable. The next door is a tiny place named Rojo's breakfast which is tiny, but a nice place to eat after a surf in the morning.
Cinta Cafe:One of my all-time favorite places. The view from the terrace is stunning There isn't much better than this when it comes to the views from Canggu. Food is quite good also, make sure to take a look at to try the Salmon Pasta, grilled tuna steak or hummus , and falafel platter. Excellent wifi speeds can be located in this place.
born bright: my new favorite place, with lovely owners and fantastic food at a reasonable price! I've seen them shift from a tiny place to a gorgeous big cafe located situated on Jalan Pantai Pererenan, one of my favourite areas for to stay in Canggu. You must go check them out! And, of course, extremely exciting, they also have a couple of cozy villas located in Pereranan named Casa Ola which are absolutely worth looking into to stay at for your next trip!
Bungalow Living:Eating in a beautiful interior and homewares shop This is pretty much what Bungalow Living could be defined. From pillows, bed covers to gorgeous bags and cards You're sure to find what you're looking for when you eat an Falafel Panini and Salmon Bagel.
I could go on and on through this collection of amazing restaurants and cuisines to try however, the general principle in Canggu is: go to any place and everywhere, test everything and everything There isn't a single spot that isn't good it's just not a common occurrence all over the place!
Where To Go Shopping In Canggu
The largest crowd of bars, restaurants cafes, and restaurants along with Canggu's main shopping street is located along Jl. Pantai Batu Bolong, ending at the well-known Old Man's Bar and sunset watching spot overlooking Batu Bolong Beach.
Jalan Padan Linjong is the principal street that leads to Echo Beach and is seeing several new developments in the last few years. From the bottom to Ocean, the street turns to Jalan Batu Mejan. It's a well-developed area that is filled with retail stores, accommodation options and eateries. In this area, you can also find Dojo the first Canggu coworking space.
Finally Jl. Pantai Berawa splits off into two parts: Jl. Canggu Permai II, where there is a local market, which will recognize by the huge red wall that is directly behind it and Jl. Pantai Berawa with some more eateries and cafes as serving as the home of Finns Recreation Club (formerly Canggu Club) which is the venue for sports and entertainment with a water park as well as a fitness center.
Supermarkets In Canggu
Just next to it, on the opposite street you will find my preferred grocery store in the area, Canggu Deli Station which is perfect for regular grocery shopping. There's a bakery department in the store also, and they sell dark bread , as in addition to pretzels (for those with German desires) along with cakes.
In the same direction as the main road and after two turns, you'll be on Jalan Subak Sari, the road that leads to Seminyak and there is an even bigger Pepito supermarket, too. It began operations in. Google maps did not list the store for a while however, now you can locate it. In any case, you'll surely spot it due to its huge car park and large orange/green sign when you head towards Seminyak.
There's also a Pepito Supermarket located along Batu Bolong heading inland which is extremely convenient.
Best Things To Do In Canggu
Are you wondering what is to take part in during your time in Canggu? It's simple: A Many!
Take in Waves from Sunrise until Sunset
The beaches in Canggu are dark, beige to black sand, and aren't the most ideal for crystal-clear water (those are located in the southern part of Bali around Uluwatu) however, they offer some famous surfing spots with reef and sandy breaks that offer different conditions for various levels.
If you're contemplating where to start surfing in Canggu I suggest Old Man's – Batu Bolong location, and I often go to the area. The spot is accessible throughout the year and you'll be able to see surfers in the water at any time from sunrise until sunset.
When I returned in 2017 and at the end of 2018, this place has grown very popular with there are a lot more people have been there in comparison to the 2016. Make sure to keep an eye on it for those who are a complete beginner , as you'll require enough space to eat your fill of the waves without getting hit by anyone or anyone else who is crashing into your.
Most times, there is no or little winds and between mid to high, and also high tide to mid tide when you are running out, there are fantastic surfing conditions at Canggu.
Where To Rent A Surfboard In Canggu
There are some surf hats in the front of Old Man's Bar on the beach, and you can rent boards of any size for about 50.000 Rupiah for a two-hour period If you want to bring your own. There are plenty of parking. It is important to note that this is most of the time a security personnel.
It is also possible to request the opportunity to take a surfing lesson There is always somebody who will guide you for two hours. Since Canggu is becoming increasingly crowded I highly suggest that you make your reservation for your surf lesson prior to time so that you do avoid missing the ideal time to be out, especially when you have limited time!
Make sure you are aware of the break at the shore is a risk. I've seen a lot of people being hit (yep I was one of them several times) therefore, be swift to get inside and exiting. In other words, it's a safe place where you can surf Canggu.
Are There Any Dedicated Surf Camps Or Surf Schools In Canggu?
There are plenty! There are many surf schools in Canggu through a simple search on Google or talking to locals. If you'd like to go with a renowned person I would also suggest that you go with the Aussie surf tour operator Mojosurf. They offer an Surf camp on Canggu also, offering twin, double and dormitory style accommodation , and they also provide several day surf safaris across the entire island.
Additionally, you should look into Dreamsea Canggu which is a boutique surf wellness and yoga retreat when you're in town for a couple of days. Beautiful place with a wonderful vibe especially for single traveler.
Additional surf spots in Canggu worth a look:
Wave House Surf Camp Includes accommodation and surfing lessons

Premier Surf Camp located in stunning Pererenan
Where To Go Swimming In Canggu
When you swim in Batu Bolong, Canggu's main beach, you should be careful with the break's short duration and the currents as it's open water at the end of the day. Lifeguards aren't commonplace in Bali However, If you are careful with the break, and pay attention to the locals then you'll be safe.
Be sure to keep an eye out for warnings to avoid the beaches. along this stretch of coast are subject to dangers from rip tides and undertows that can grow very robust and push you to sea. Be alert and don't be afraid.
Practice Yoga In Canggu
Canggu isn't as spiritual than Ubud, however you can enjoy a yoga session or even begin to become an experienced yogini. I was awed by my yoga session in Serenity Eco Guesthouse. Serenity Eco Guesthouse as there are a variety of styles and classes that you can take part in and they are among the most affordable in Canggu for 110.000 Rupiah per hour for a class. They also have discounted packages passes too. And they also provide aerial yoga.
There are other yoga centers in Canggu to explore:
Samadi Bali has an organic cafe right next to them and an locally owned Organic Farmers and Artisans Market every Sunday on the in front.

Desa Seni Resort offers several retreats

The Practice Bali They also offer workshops, detox retreats and coaching sessions

Canggu Studio, a lovely location with a huge calendar of classes ranging that ranges from Acro Yoga, Muay Thai, Yin, Pilates and Brazilian Body

Udara It is approximately 20 minutes away from the city of Canggu however it is worth the trip.

 

Udara is a healing yoga retreat that offers a variety of retreats focused on detox and wellness and also other private classes.
Fitness Classes In Canggu
If you're seeking to burn off some calories, then there's amazing fitness centers and classes to consider trying such as 2befit, Odyssey MVMT and Motion Fitness that are spread across Canggu and offer a variety of cool programs and classes ranging that range from boot camps at the beach to intense and booty-core programs.
Take A Horseback Ride Along Canggu Beach
If you're brave enough to leap on a horse and travel through the rice paddies or in front of the breathtaking Canggu sunset, make sure to visit the Bali Equestrian Centre which is a well-known stable that is located in the area, that has healthy horses and skilled trainers.
Make Your Own Pretty Jewellery Workshop
I was really keen to get creative and create beautiful jewellery , and not just be glued to my laptop when traveling around Bali and I decided to take an evening class in silversmithing at House of Alaia, now being referred to as Canggu Jewelry Courses via Google. I created a necklace and rings in just 3 hours, and had a blast because the instructors were wonderful.
Although you can find some fantastic inspiring jewellery in the shop where you are seated and also work but, I suggest you have an idea of the kind of jewellery you'd like to make. Make sure to follow Pinterest ahead of time for ideas!
If you're not a jewellery preference, you can take an Balinese cooking course at Canggu.
Markets In Canggu
If you're not sufficient to create your own jewelry I strongly suggest taking a look at some of the art-filled markets in Canggu. My favorite is the monthly market in Old Man's which takes place on the second Saturday of every month from 8am until 3 pm.
Book A Spa Treatment
A trip to Bali is not complete without pampering yourself by a spa day. It's also affordable, so why not have your nails done? I am a huge fan of the massages of Goldust Beauty Lounge in Canggu great atmosphere, beautiful ambience and skilled staff.
If they're not available, try the following:
Spa Spring Canggu

Therapy Canggu

Maria Curau Bali

Tonic Day Spa

Jet Black Ginger
I also suggest Consider Pink Nails, a New York-style nail salon It's simply stunning and beautiful. The salon is located in the middle of Seminyak arriving from Canggu. They do everything nail art with perfection they also provide the art of facials, massages and waxing, and other things.
Visit Tanah Lot Temple Or Take A Day Trip From Canggu
Tanah Lot Temple is a famous tourist attraction in Bali and you will definitely not get away from the crowds. It is often described as the temple by the sea, this ancient Hindu shrine is located on the top of a rock outcrop that is situated in the middle of the constantly crashing waves.
It's just a 20-minute scooter ride from Canggu and is most popular around sunset, with numerous tour buses making their final tour at the end of the day.
Although you aren't able to get into the grounds of the temple however, the views are stunning and it's worth visiting the lesser shrines scattered around and getting a great glimpse of the entire coast. At times, there are traditional dance performances , too. And it is also an tourist town filled with souvenir shops that I'm not a fan of.
There are many other excellent full-day trips you can make from Canggu as well. One of the easiest is to arrange a private driver to take you to Bali's mountainous in the inland area in the vicinity of Ubud. What about the Bali Instagram Tour to the most popular places? I also really enjoyed my time on the Mount Batur Sunrise Trek. Be sure to take the tour along with the hot springs later It's just so relaxing and incredibly relaxing after a morning trek through the mountains.
Find A Spot To Watch The Sunset
A stunning sunset view in Canggu is a must. There's no shortage of places to watch the sunset.
The largest crowd of people watching the sunset can be seen at Old Man's and Batu Bolong Beach in Batu Bolong Beach, where you can buy fresh coconuts, beer, or Corn on the Cob at one of the street vendors at the lowest point of the parking lot. Be assured that you aren't going to miss where the action is going on by walking through this dazzling blue wall and you'll be able to see!
Berawa Beach and Echo Beach both have beach huts, and are a great location to watch surfers take in the final waves for the afternoon.
Try try the Naked Coconut, which is difficult to find, but is most easily when walking through Berawa Beach to the right towards Finns Beach Club. The sign isn't huge and so is the bag of beans that lie in the sand as well as the hut that is behind it however, I'm sure you'll find it. Hidden gems are called that to be sure!
The best spot to view the sunset on Echo Beach is from the famous Echo Beach House, a restaurant that is located right over the beach that cooks freshly prepared food, and serving inexpensive drinks.
Below are some additional locations for sunsets that make for great places to dance after the sun sets.
Best Places To Watch The Sunset & Party In Canggu
Where exactly is the party in Canggu? Anywhere?
Although it's not more wild and crazy than the parties in Kuta or the nightclubs right adjacent to Seminyak You can still find an ideal party spot to enjoy a relaxing sundowner on the beach , or if you want to listen to dance music live or even DJs mixing the beats.
Nightlife is definitely here in Canggu!
Old Man's Canggu
Old Man's is the beachfront Canggu's beer garden, or at the very least, a great place to relax and watch the surfers, as it is located right above one of the major waves in Canggu. The menu for food is basic and it costs a bit more for the spot.
I'd rather eat elsewhere and going here for drinks and the throng of people, which is generally laid back and friendly . You will be able to easily meet people. You can expect live music on weekends and a unique theme or occasion almost every night, making it the perfect place to watch the sunset or for kicking off your night.
Pretty Poison & Black Cat Mini Mart
A unique hangout as you sip your drink within an skate park. Pretty Poison has been in existence for a long time, and is your preferred spot after a night of drinks at the beach.
And even more so if an athlete, surfer or, in general, an adolescent. That's right, I said it! Check out the skate jams every week and enjoy live music as the place gets packed up until midnight.
There's a brand new bar adjacent to the one that's known as Black Cat Mini Mart, described as a dirty speakeasy The bar will get people dancing while playing the pool to the beats.
Deus Ex Machina
Deus is a temple of culture concept that blends workshops restaurant, artist studios and art studios into the shop. The place is swathed in surf, it has motorbikes, it's trendy.
The most popular and memorable evenings on the calendar at Deus are on Sundays when live music from various bands get everyone together in outside to party.
until midnight, after which you're either continuing with the DJ or go to Sand Bar, which is currently located right just in the front the entrance to Old Man's. The party starts at midnight. That's when the parties that follow.
The Lawn Canggu
The Lawn was an unassuming patch of grass that was dotted with bean bagsand cold beers and coconuts that were sold from an elegant VW Kombi some time ago. The Lawn has been upgraded in their facilities and looks very different. However, the positive vibes are still there! Take a look at the right and left photos below!
They have a pool with a swim-up bar and an outdoor deck that you can relax in one of their daybeds and soak up the sunshine. You can also visit The Lawn for a romantic evening with a romantic glow on the top Deck. The Lawn is a day – and evening venue, and they offer delicious food. There's always a wide range of events going on visit the website and Facebook for the latest events.
A few other bars and clubs in Canggu worth a visit are:
La Brisa, such a cool boho vibe in this and absolutely stunning decor along Echo Beach's beachfront. Echo Beach

La Laguna Welcome to La Laguna, a this gypsy-themed paradise, set amid tropical gardens. An absolute Instagrammers wish (currently being renovated and reopening at the end of 2020!)

Gimme shelter, which is a genuine rock'n'rool bar

Ji Terrace by the Sea is located just to the left of The Lawn with 180 degree views of Canggu's beaches and a fantastic cocktail menu
Finn's Beach Club
For a different beachfront experience, Finn's Beach Club is an enormous beach club located situated on Berawa Beach. You can't be able to miss this huge bamboo structure as you walk down the shore.
There are six bars, two swimming restaurants, 2 pools spa, and plenty of hammocks to lounge in and look out to the front in the evening. The rental cost for a daybed begins at Rp 500 000. They host different parties on different nights during the week, which include International DJs, as well as happy hour.
Have you visited Canggu?

 

Are you planning to visit?