Bali waterfall – island of the gods does have a lot of natural beauty that is extraordinary, making paradise for traveler. Bali could even be said to be the main tourist magnet in Indonesia for foreign tourists.
The charm of island of Bali has been heard in several countries, especially Kuta beach which is very famous for local tourists and foreign tourists. In addition, Bali waterfall tour is no less beautiful than the beach tourism on island of gods. Therefore, this tour can be a recommendation for tourists.
Although it has extraordinary natural beauty, but not many people are aware of this Bali waterfall tour. Even though there are already quite a few famous ones, there are still many more tourist spots that not many people know.
Explore The Most Beautiful Waterfalls in Bali
There are several things that make this tour less known by tourists, one of which is access to reach difficult spots and hidden places. Therefore, on this occasion we will share a list of the most recommended Bali waterfall tours.
Gitgit Waterfall

For first is Gitgit waterfall, with a height of a waterfall that reaches 35 meters with beautiful natural scenery. The location is at village of Gunung Luwi Gitgit, Kec Sukasada, Buleleng Regency – Bali.
While here you can also find other Bali waterfall such as Colek Pamor, Terraced, Campuhan and Mekalangan waterfalls. Access to reach Gitgit waterfall is quite easy, with a distance of 16 km from Bedugul Beach.
Spot is not too far from main road that connects 3 major cities of Bali, namely Singaraja, Bedugul and Denpasar. While the tariff to enter this Bali waterfall is IDR 20,000 / person and to take the path to reach the location. In addition you will also meet several souvenir stalls at the Gitgit waterfall.
Bertingkat waterfalls

Next Bali waterfall is still in Gitgit Village, Kec Sukasada, Buleleng Regency – Bali. As the name implies, multilevel waterfalls have flow through 3 levels. We can not only look at its natural beauty, but you can also climb to the top to see the beautiful natural multilevel waterfalls.
When you want to travel to multilevel waterfalls, we recommend paying close attention to road directions. Because some intersections are quite confusing if there are no clues, while this tour is not pegged cost, free or free.
Campuhan Waterfall
Next The Most Beautiful Waterfalls in Bali which has name Campuhan means a mixture in Balinese. Because Campuhan waterfall comes from 2 streams, with 3 springs. While local residents call it a twin waterfall.
Cool air and clear water are the main attraction of this Bali waterfall. However, high rock cliffs and lush trees around waterfall, making the atmosphere of waterfall becomes darker.
Campuhan waterfall tourism at village of Gitgit, Kec Sukasada, Buleleng Regency – Bali. If you want to enter this tourist spot, then you will be charged Rp. 25,000 / person.
Colek Pamor Waterfall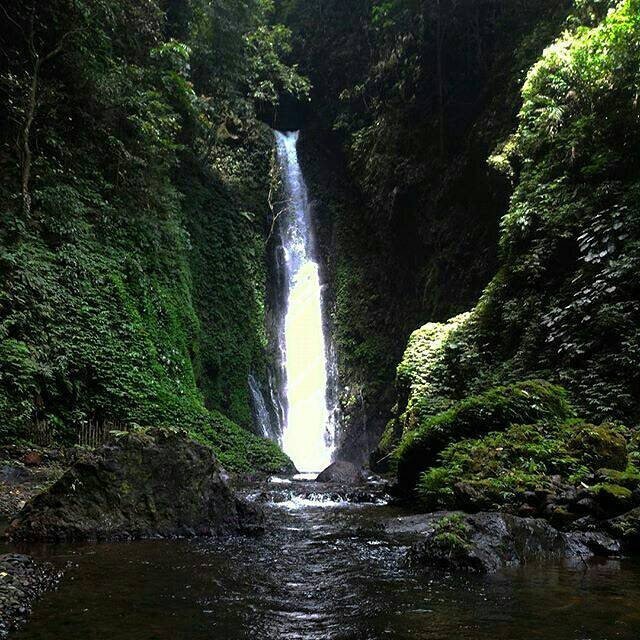 Colek Pamor waterfall is above the Campuhan waterfall with a height reaching 20 meters, then automatically same location. Bali waterfall tourism is still natural in the middle of forest and access is also quite difficult, often a tracking activity by tourists.
Mekalangan Waterfall
Still from Gitgit Village, Sukasada District, Buleleng Regency – Bali. Mekalangan Waterfall is a channel of Campuhan waterfall, height of waterfall reaches 40 meters. Given the Mekalangan waterfall canal from Campuhan make water flow and currents more swift. If you want to go to this place, you only need 5 minutes from Campuhan waterfall.
Its location is near Campuhan waterfall, so to reach it only takes approximately 10-15 minutes. But to reach bottom of waterfall is quite difficult, by taking the direction back towards the small bridge.
Aling-aling Waterfall

Thing that makes Aling-Aling waterfall to be unique is because top of waterfall is split, thus making 2 waterfalls fall side by side from a height of 35 km. This Bali waterfall is at Village of Sambangan, Kec Sukasada, Buleleng Regency – Bali.
Steep waterfall and full of green plants make the exotic atmosphere thicker. This makes the air feel very cool with trees that thrive, besides that you can also soak and swim in the waterfall column as deep as 4 m.
If you are interested in traveling to the Aling-Aling waterfall, you don't need to spend a lot of money, because to enjoy this trip only available boxes are filled according to the ability of visitors. Make this tour a favorite among teenagers.
Recommend post to read WHAT IS EASY TRANSPORTATION IN BALI TO GET AROUND?
Twin Banyumala Waterfall

Panorama of Twin Banyumala waterfall is incredible, your efforts through the steep road to reach tourist spot of this Bali waterfall will pay off. This tourism object is located in village of Pakraman Wanagiri, Sukasada District, Buleleng Regency – Bali.
When sound of water splashing in gap of rock cliffs, and expanse of green trees makes you relieve stress and burden of living temporarily. Cool air is also an additional value in relaxation. Besides that, you have clear water that can be used for swimming and satisfied playing with water.
While the tariff is very friendly, it is enough to pay Rp. 20,000 per person. When it comes to Bali Banyumala waterfall tour, you should bring your best camera to capture the beautiful moments.
Carat Waterfall

Bali Carat waterfall tourism is still not many people know, so the atmosphere is very natural. This tourist spot is located in Banjar Dinas Kelampukan, Tamblang Village, Buleleng Regency – Bali.
Carat Waterfall has 2 waterfalls that have different heights. A small waterfall has a height of 15 meters, but pool under waterfall is very tempting to play water. We can play water until we are satisfied but we must maintain our manners, because according to the people around this place has a mystical story (haunted).
As for other waterfall which has a height of up to 100 meters. Considering there are many high and steep cliffs, making the tourists can only enjoy it from a distance.
Jembong Waterfall
Still in Sukasada Subdistrict, Buleleng Regency, Jembong waterfall which is on a slope reaches 70 degrees. Jembong waterfall is different from other steep waterfalls, because Jembong is fairly gentle. Bali waterfall tourism is located in the village of Ambengan.
Another unique thing in Jembong waterfall is because there is a cocoa plantation around waterfall. In addition, this waterfall pool is only 1 meter deep, making it very safe for us to play water and swim.
Lemukih Waterfall

Lemukih waterfall is also very unique, because there are 3 waterfalls at once with a height that reaches 4 meters highest. In addition, pool is also very broad, so it can be used as a natural swimming pool.
If interested in this Bali waterfall, can directly come to the Village Lemukih, Kec Sawan, Buleleng – Bali. You can reach Lemukih Waterfall after taking a 200 meter walk until you finally find a beautiful view.
Les Waterfall

This waterfall in Buleleng Regency is also often referred to as Yeh Mempeh waterfall. Name of waterfall Les itself is taken from the name of area where the waterfall is located precisely in the Village of Les, Kec Tejakula, Regency of Buleleng – Bali. Distance is only 95 km from downtown Denpasar.
Les Waterfall has 3 levels located at Bukit Pungsu and Bukit Yangudi, while lowest waterfall level reaches 30 meters. While the rest are on it, so it is rarely visited because it is difficult to reach it and steep path.
Read the most booked activities in Bali how much does it cost to climb mount batur
Melanting Waterfall

Bali waterfall tourism in Buleleng Regency is still not finished, there is still a Melanting waterfall with a height of 20 meters and to enjoy it you have to spend Rp 20,000 / person. This at Village of Munduk, Kec Banjar, Buleleng Regency – Bali.
Munduk Waterfall

Next Bali waterfall is only 1 km from the Melanting waterfall, but it is located in village of Munduk. Path to reach the location is not too far away, only 250 meters away. If you are on a Bedugul tour it only takes 30 minutes to arrive at the Munduk waterfall.
Sekumpul Waterfall

Still in the vicinity of Buleleng regency with Sekumpul waterfalls, it is commonly referred to as local residents by the name of Gerombong waterfalls. This waterfall consists of a collection of waterfalls, several waterfalls often visited because of its close proximity. One of them is 2 waterfalls that are close together, with 2 different springs making it even more interesting when entering the rainy season.
In the rainy season there will be 2 colors, where other color will remain clear because of the flow of springs. If interested, you can visit after the Lemukih waterfall with a distance of 2 km, more precisely located in the Village Sekumpul, Kec Sawan, Buleleng Regency – Bali.
Singsing Waterfall

Singsing Waterfall has stunning natural beauty, with a height of up to 12 meters. But to achieve this must be a little struggle, because there are steps that must be traversed until finally reaching the beautiful panorama. Its location is in Banjar Labuhan Haji, Kemukus, Banjar, Buleleng – Bali.
Previously, Lemukih waterfall had a pool depth of only 3 meters, while in Singsing waterfall it had a pool as deep as 5 meters. So it is difficult to refuse to play water while at Singsing Waterfall.
Nungnung Waterfall

Nungnung Waterfall has a height of approximately 70 meters which is located in anjar Nungnung, Palaga Village, Kec Petang, Badung Regency – Bali. Besides having a beautiful natural landscape with an altitude of 900 above sea level, has cool air that makes you feel relaxed.
Distance from the center of the city of Bali (Denpasar) is only 45 km away, then to get to your location takes approximately 1-2 hours drive. After arriving you also have to be careful when descending hundreds of slippery and steep steps, and through a small bridge until finally reaching Nungnung waterfall. This Bali waterfall tour has beautiful views.
Toughest journey is when you want to return to the vehicle parking lot, because you have to climb back hundreds of steps that were previously descended. But not to worry, because there are already provided several gazebos that can be used to rest. Besides being able to travel and see beautiful scenery, your body will also become…
Blahmantung Waterfall

Charm of Blahmantung waterfall is well known by tourists, some of them call it Pupuan waterfall. Height of this Bali waterfall tour reaches 50 meters, hidden surrounded by high cliffs and coffee plantations.
The waterfall spot in Pupuan District is still very beautiful, besides that you can also find 2 other different waterfalls. Considering this Bali waterfall tour has not been professionally managed, then you will not be charged an entrance fee. The location of Blahmantung Waterfall is in Pujungan Village, Kec Pupuan – Bali.
Pengempu Waterfall

Waterfall in Cau Belayu Village has a height that reaches 20 meters. Pengempu waterfall is located adjacent to Sangeh Monkey Forest tour, precisely in the Tabanan District. If you want to go to Pengempu waterfall from Denpasar, you have to travel a distance of 40 km with a time of 30 – 1 hour drive to the Bali waterfall.
Sade Waterfall

Singsing Waterfall Another name for Sade Waterfall is not too big that flows from the Yeh Sapuan river. View of Sade waterfall is filled with bamboo and high cliffs, besides that not far from here you can see the Benben waterfall. If you are interested, you can come directly to Belimbing Village, Pupuan District, Tebanan Regency, Bali. 50 km away from the center of Bali (Denpasar).
Kemenuh Waterfall/Tegenungan Waterfall

Kemenuh Waterfall which is located in Tukad Petanu river, with another name Tegenungan Waterfall has a height that reaches 15 meters. Gianya Bali Waterfall has been managed by local tourism, so to enter you have to pay a fee of Rp 20,000 / person.
Location of this Bali waterfall tour is in Kemenuh Village, Sukawati District, Gianyar Regency – Bali. Distance is only 16 km from Denpasar City, so it only takes 15-30 minutes to reach it from the city center
Kanto Lampo Waterfall

Waterfall in Banjar Kelod Kangin, Beng Village, Kec. Gianyar Bali is increasingly becoming very popular among local and foreign tourists. In general, this area is as hot as Denpasar City, but when you enter tourist area of ​​Bali's waterfall the temperature will change to become cooler.
Temperature becomes cooler when you play water in the stream of Kampo Lampo. This waterfall has a height of up to 15 meters, with a flow of water flowing on wide sloping rocks. Atmosphere will become more beautiful, when you climb the rocks of Kampo Lampo, Kec. Gianyar Bali. But be extra careful, because the rocks are slippery.
Juwuk Manis Waterfall

Now we leave waterfall tour in Gianyar Regency, Bali and continue to waterfall tour in Jembaran Regency. More precisely located in Juwuk Manis Hamlet, Manggissari Village, Kec. Alliance. But Juwuk Manis waterfall is relatively small, because its height only reaches 4 meters, but you can play water or swim in the pool.
Dusun Kuning Waterfall

Next Bali waterfall is in Taman Bali Village, Dusun Kuning, Bangli District, Bangli Regency – Bali. This waterfall spot has beautiful nature, considering that there are still not many people who know its natural beauty. Beautiful panorama of Dusun Kuning waterfall is inevitable.
Are you interested in traveling to Dusun Kuning waterfall? If so, you can go by Ida Bagus Mantra By Pass if you depart from Denpasar City.
Kutuh Waterfall

Kutuh waterfall has a height of approximately 40 meters, forming two levels of waterfall. Uniqueness of this waterfall is water which is warm water, then it becomes a recommended Bali waterfall tour.
As 2nd waterfall in Bangli Regency, Kutuh has become quite well known by local and foreign tourists with its uniqueness. Exact location is in Subaya Village, Kintamani District, Bangli Regency – Bali.
Pengibul Waterfall

Still in range of Bangli regency that provides waterfall tours with beautiful panoramas, namely Pengibul waterfalls. This waterfall, which is often called Yah Empel, has 2 levels. Pool under the waterfall can be used to play water, soak, swim and bathe. This Bali waterfall is located in Apuan Village, Susut District, Bangli Regency – Bali.
Tangkup Waterfall
Tangkup waterfall or commonly known as Slau waterfall, is still in Bangli Regency. Exact location is in village of Undisan Kelod, Tembuku District, Bangli Regency – Bali has a height of approximately 25 meters.
Interesting thing about this Bali waterfall tour is that there are 3 flowing waterfalls flowing between the rocks. Therefore, if we look at it from the front, it looks like a twin waterfall that flows 3 at a time.
Tibumana Waterfall

Next waterfall in Bangli Regency is the Tibumana waterfall, with a height that reaches 20 meters and has 2 waterfalls and a cave behind waterfall. This place is quite safe, because pool here is quite safe. More precisely located in Apuan Village, Banjar Bangun Lemah Kawan, Susut District of Bali.
Tukad Cepung Waterfall

Neat to The Most Beautiful Waterfalls in Bali is Tukad Cepung Waterfall. Height of Tukad Cepung waterfall is approximately 15 meters. Bali's last waterfall tour in Bangli Regency, has an exotic panorama. Exact location is in Banjar Penida Kelod, Tembuku District of Bali.
Jaga Satru Waterfall

Turning to Bali waterfall tour in Karangasem Regency, this waterfall has a height reaching 40 meters. This area is still very natural with many large trees that grow around the Jaga Satru waterfall.
If you are curious about this Bali waterfall, you can directly come to East Duda Village, Pateh Hamlet, Selat District, Karangasem Regency, Bali.
Telaga Waja Waterfall

Bali Waterfall tourism Karangasem Regency is often used for extreme White water rafting Bali. Telaga Waja Waterfall is located in Rendang Village, Rendang District of Bali. If you want to come here you can go through 2 paths, namely through the trail or refting by following the rafting.
Read our post >> Read Before You Join to White Water Rafting Bali Ayung River <<
Yeh Poh Waterfall

Bali's last waterfall tour is Yeh Poh waterfall. Waterfall which has a height of 15 meters is located in Selumbung Manggis Village, Yeh Poh Hamlet, Manggis District, Karangasem Regency, Bali.
That's list of The Most Beautiful Waterfalls in Bali. Actually there are many more beautiful places in Bali that you can visit. But with the list above, at least you can decide where you will go on vacation.
Not have driver yet to explore Bali??? No worry, we are here to help you. Baliventur driver team is always ready to escorting you. BOOK HERE https://baliventur.com/tours/private-bali-transport/