Do you like adventure like mountain Batur trekking? So the tour to climb Mount Batur in Bali can be a destination to fill vacation time. For those of you true climbers do not miss the cheap tour packages on this one. The cost you have to spend to be able to travel to Mount Batur Bali, the value is smaller when compared with the natural beauty you get.
This an article for question always been asking "How Much Does It Cost to Climb Mount Batur?"
The best spot of Mount Batur (Kintamani) is the view of the sunrise with a hike accompanied by Gued (guide). A guide who understands the tracks and terrain to reach the top of Mount Kintamani. The hiking trail is fairly easy and fast, but you should still use the services of a guide. This is because, there are several spots from the track that can make you get lost and misdirected in climbing Mount Batur tour.
The height of Mount Batur Bali is 1717 meters / asl, so it takes about 2 hours to climb. While the time needed to go down is over 1 hour, then the climb will start from 3 o'clock in the morning. If you want to experience the latest trekking tour with sunrise views from the mountain which has the largest caldera in the world. Bali Batur Mountain climbing adventure in Kintamani is the most suitable tour package.
The composition of Bali Batur Mountain Trekking
Pick up meeting points from hotels in the Tuban, Jimbaran and Kuta areas at 1 am to head to the foot of Mount Batur – Kintamani. Travel time from the pickup location to the foot of the mountain takes 2 – 2½ hours drive. Well, climbing Mount Batur will start from the post in Pura Jati Toya Bungkah – Kintamani at 3 o'clock in the morning.
After the direction is given during the climbing post, then the adventurer of Mount Batur Bali trekking accompanied by a guide, so that the climb will be safer. Cool air and beautiful scenery will accompany the steps to reach the top of the mountain.
If you are lucky the weather is sunny, it becomes an added value in climbing. This is because, the view of Mount Agung and Mount Rinjani in Lombok is a very extraordinary sight.
Then How Much Does It Cost to Climb Mount Batur? If you directly to the starting point you might get price bit high, need to be expert to negotiated. They always be extra fees for sure. If you go just 2 person, cost would be entrance fee 100k, Local guide 500k ( shared group more cheap). Not include the breakfast.
Strongly recommend you to book with provider or trekking company with good reputation. We are really delighted to offer you full packages of mount Batur sunrise trekking. Below price provide by Baliventur (we are one of the best tour and activities provider own by local).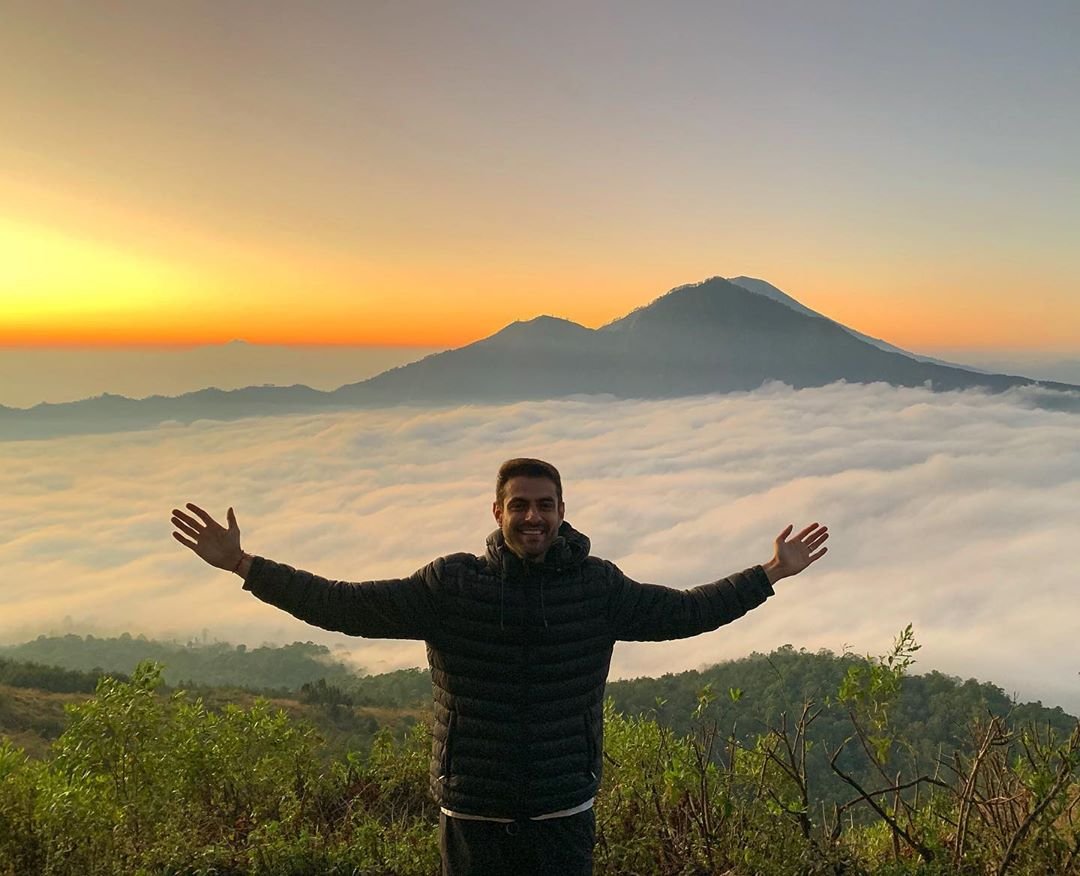 How Much Does It Cost to Climb Mount Batur?
Without hotel transfer:
Price Rp375,000.00/pax, this the best option if you have own transport.
With hotel transfer:
Rp400,000.00 (Ubud Area Pickup)
Rp500,000.00 (Kuta, Seminyak & Canggu Area pickup)
Rp555,000.00 (Nusa Dua, Uluwatu & Jimbaran Area pickup)
Rp450,000.00 (Sanur, Denpasar Area Pickup)
Itinerary tour
02.00 – 02.20 am: Hotel pickup (Ubud Area). For Nusa Dua pickup, Jimbaran (00.00 – 00.30), Kuta & Seminyak, you will be picked up at 01.00 AM.
03.00 am: Breakfast (fried bananas plus tea and coffee)
04.00 am: The climb starts for 2 hours and is accompanied by an experienced tour guide
06.00 am: Arrive at the peak of Mt Batur, while waiting for the sunrise a packed breakfast will be served with a special volcanic steamed eggs.
7:15 AM: Trip continued to follow the path down to other brothers. Crater 2 & 3 and the latest crater erupted on the year 2,000
09.00: Ariival at the finish point and board car
10:00 am: Drive back to the hotel (can be stopped in some coffee plantations & rice terrace)
Promo Conditions
Prices are valid for LOCAL & Foreigner travelers
For the tour PRIVATE (Not combined with others), please contact us for more detail about private tour
Promo valid until March 2020
Price includes:
hotel shuttle service
Breakfast
Tea / Coffee
Tax
Service
Local guide
Entrance ticket ascent
Entrance ticket to the Kintamani area
Bread and egg serve in the summit
If you are interested, please click here to order the Mount Batur Climb promo.
Dear reader hope you got bit idea about how much does it cost to climb mount Batur?, that question always been asking for all the time. For more info and reservation you might go to this link https://baliventur.com/tours/mount-batur-sunrise-trekking/. We would be more than happy to organizing and do the best.