Complete Vacation Guide to North Bali (Lovina, Bedugul, Banjar)
For those of you who want to vacation in Bali, of course there are so many choices that will be confusing. Bedugul, Lovina and Banjar, which are located in the northern region of Bali, are options that are often overlooked, but save the beauty that you don't necessarily get at other tourist locations in Bali.
From the waterfall, the infinity pool on the plateau, until you can find beautiful rice fields in North Bali.
4 Reasons Why You Should Visit North Bali
# 1: Indonesia is a country with a tropical climate with warmer temperatures, but in Bedugul you can enjoy much cooler weather. At night, temperatures can reach below 17 Celsius .
# 2: Beaches with white sand are everywhere. What if the beach with black sand is unique isn't it? Not only black sand, in Lovina you can also see adorable dolphins.
# 3: Not only a beautiful beach, North Bali also has waterfalls and hot springs. Its hidden location, adds to the mystical and religious impression of this tourist spot.
# 4: Is the ideal place for those who want to take a vacation and relax in a calm and quiet atmosphere.
How, have you been tempted to visit there immediately? Previously, first consider our complete guide below (you can directly click on the desired section).
We divide this guide into several sections
1. Transportation
2. Bedugul (tourist attractions, places to eat, places to stay)
3. Lovina (tourist attractions, places to eat, places to stay)
4. Banjar (tourist spot)
5. Waterfall in North Bali
6. Tips for Visiting
1. Transportation
Taxis or public transportation will rarely be found in North of Bali. Therefore, the best choices we recommend include:
a) Rent a car + driver
b) Just rent a car
c) Rent a bicycle or motorcycle
The budget that must be prepared to rent a complete car with drivers ranges from Rp.600,000 to Rp.700,000.
Here is a glimpse of the map
2. Bedugul Panorama of misty mountains and charming cool air
Bedugul offers many beautiful natural scenery. One of the famous locations that are often used in premarital photography sessions is Lake Tamblingan. The view of the mountains covered in fog and the cool weather adds to the beautiful and soothing charm of Bedugul.
Interesting things in Bedugul that you have never known before
a. The mystery of an empty hotel is not maintained: Bedugul Recreational Park

The Bedugul Hotel Recreation Park was originally a hotel project owned by the son of Indonesia's 2nd President, Soeharto. Until 2002, the hotel construction was stopped after the Bali Bombing. Over the past 14 years, this almost completed hotel building has been abandoned without many knowing the cause. In fact, Bedugul Recreational Park has almost been operated. Seen from the toilets and beds that have been installed, to the reception area that looks elegant.
Even if there are guests who stay here, we can be sure that they are not human aliens (Hiiii!). So many people dub this place as "Ghost Palace Hotel".
For those of you who claim to be brave, please come and explore the area of ​​this hotel. Just challenge yourself in this haunted hotel and keep the hidden secrets stored in it!
Bedugul Recreational Park
Getting There: You can use private vehicles from Kuta to Bedugul for approximately one and a half hours.
Our tip: There, you might meet with a security guard who would forbid you to go inside. When we said we only wanted to take pictures inside, they still forbade us from entering. But after paying a little money, we were finally allowed to enter.
b. Pick and enjoy fresh strawberries:
Bali Strawberry Farm & Restaurant
Don't think that Bali only has the beauty of maritime tourism and culture. In North Bali, there is a village with natural beauty of the mountains that is worth visiting. In this vast strawberry plantation, you can pick the strawberries you want to buy and take home. Not only is the view soothing, your stomach will be spoiled here.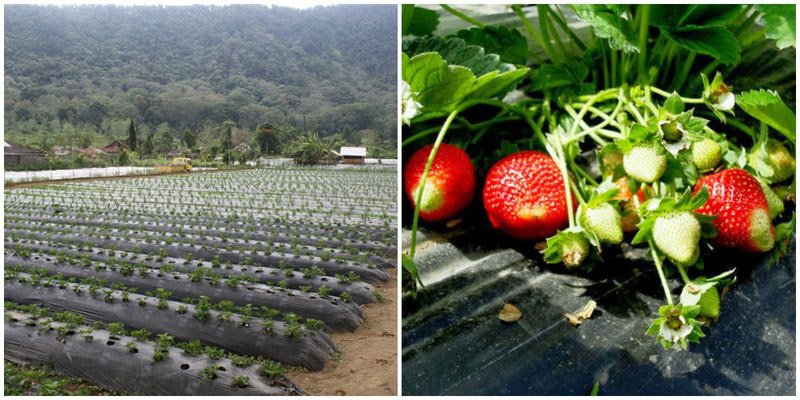 For fans of sweet foods, you will fall in love with the restaurant which serves a variety of processed strawberries, such as strawberry milkshakes, strawberry ice cream, and strawberry-based cakes.
Bali Strawberry Farm & Restaurant
Address: Taman Tanda Bedugul Village, Kab. Tabanan, Bali 82191
Phone: 0368-22032
Operating Hours: 09.00 – 18.00 (every day)
c. The charming twins: Lake Tamblingan and Lake Buyan.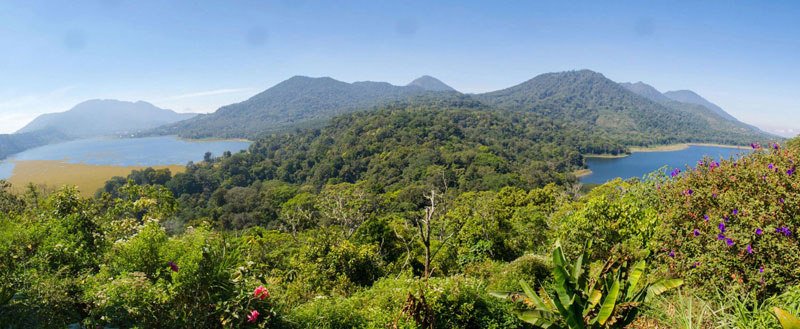 One of the beautiful natural attractions in North Bali is a pair of twin lakes formed by volcanic eruptions. Lake Tamblingan and Lake Buyan are located side by side and are only separated by one kilometer by a stretch of forest. The two lakes are a natural source of life for the local community. There, you can see various activities of local people, such as fishing with traditional boats.
The best location where you can see these two lakes at the same time is at the top of the hill in the village of Asah Gobleg.
Exploring the forest area surrounding the two lakes is also interesting. You can find ecosystems that are still very natural, in the form of trees where wild animals live, such as various species of birds, squirrels and monkeys.
Getting There: Generally, tour operators offering tour packages to North Bali, also include visits to these twin lakes in their itinerary. If you use your own vehicle, the closest location of the lake is through Bedugul City, which is approximately 2 hours from Kuta.
d. The Wonder of Bedugul: Ulun Danu Beratan Temple
For Balinese people, Ulun Danu Beratan Temple is the second main temple after the Besakih Temple.
This temple is dedicated to Dewi Danu, the goddess of ruler of lakes and rivers.
Trivia: According to the theory of the balance of Rwa Bhineda (the Balinese version of Yin-Yang), Pura Ulun Danu Beratan represents a feminine figure, while the Pura Besakih represents a masculine figure. To reach this beautiful and noble temple from Ubud, the travel time is estimated to be around 40 minutes drive.
e. Swing and play in the trees: Bali Treetop Adventure Park (Tabanan)
This is one of the most exciting recreational spots in Bali for all family members, where you can swing among the towering trees!
Tired of playing on the beach? Come visit one of the most spectacular recreational spots in North Bali and adventure on giant trees.
There is a choice of 7 pieces of circuit consisting of 72 obstacles with various levels of difficulty. From the height of 2 meters to a height of 20 meters which is very thrilling, according to your ability (and courage)!
Calm down, your body will be tied with a safety strap that will protect while at height. Above, you can hang from one tree to another or run on a bridge made of wood from the top of a tree. The time of losing to a child!
Bali Treetop Adventure Park
Address: Bedugul Bali Botanical Garden, Candi Kuning, Tabanan, Bali.
Website
Phone: 0361-852 0680
Price: Family (2 adults and 1 to 2 children) – Rp.770,000, – (Rp.650,000, – if the reservation is in advance)
Operating Hours: 8:30 – 18:00 (every day)
Hidden dining place in Bedugul
Stalls with interesting sights and entertainment: Warung Rekreasi Bedugul
If you visit Bedugul, then one thing you should not miss is dining at a dining place that presents the beauty of Bedugul's natural panorama. At Warung Rekreasi, you can see stunning mountain and lake views. First, enjoy the Ayam Bakar Betutunya which is very delicious. After being full, don't forget to burn fat by walking to the entertainment facilities in this place.
There is a playground for children, an orchid flower garden and organic plantations, coffee plantations, and a very Instagramable bamboo forest! At Warung Rekreasi, you not only can eat, but also can enjoy the scenery, and do various other exciting activities.
Warung Recreation Bedugul
Address: Bedugul Highway, Candi Kuning, Baturiti, Tabanan, Bali
Phone: 0368-203 3036
Operating Hours: 08.00 – 21.00
Website
Cafe with artistic nuances: Eat Drink Love Cafe Bedugul
Besides being religious, Balinese are also famous for their high artistic souls. And that you can find while dining at Eat Drink Love Cafe.
The location is behind the Merta Sari Market, so you can take a walk first in this traditional market before stopping by the cafe.
This cafe offers a menu of healthy foods, as well as various drinks such as Balinese milk black tea. You can enjoy all that while looking at the mountain scenery which is shrouded in mist.
Before going home, please browse various handicraft art products sold at this cafe. If necessary, buy it as a souvenir.
Don't forget to show photos of social media because this cafe has free WiFi facilities.
Eat Drink Love Cafe Bedugul
Address: Merta Sari Market, Jl. Botanical Gardens, Indonesia
Phone: 0811 399 393
Operating Hours: 10:00 – 21:30
Website
The best place to stay in the cool place of Bedugul
Swim among the clouds: Munduk Moding Plantation
Did you know that Bali has many cool infinity pools that are recognized by its beauty throughout the world? If you like to fantasize, you will definitely fall in love with the swimming pool at Munduk Moding Plantation.
Have you ever dreamed of touching a cloud that marched in the blue sky? In the villa that offers this spectacular view, your dream will come true.
The position of the pool in this villa allows you to feel the sensation of swimming among the clouds! In fact, if you lean on the edge of the pool for 18 meters, as if you can touch the cloud.
Because what seems to be stretching before you are only the clouds and blue sky that surround coffee plantations around this spectacular accommodation.

This place was designed by Popo Danes – an architect from Bali who has received various awards for his work, combining traditional Balinese nuances with modern touches. There are 9 villas and 3 suites at Munduk Moding. From inside the room, you can immediately open the glass door and be greeted by views of coffee plantations surrounded by forests.
Really the right place for you who want a romantic vacation with your partner.
Beautiful lakeside place to stay: Puri Candikuning Retreat
Here, you will get the experience of staying at the edge of the lake which will be very memorable.
There are many things that Candikuning Castle can do, from dining in a restaurant equipped with a fireplace, relaxing in the infinity pool overlooking the lake and mountains, to spending time in the library area, karaoke room, or even playing billiards.
If you want to stay fit during the holidays, there is also a jogging track around Candikuning, as well as spa services that promise maximum body care.

And what is equally interesting is that you can also use the canoe at this resort to navigate the lake to Ulun Danu Temple. Besides being reached by boat, this beautiful temple lake can also be accessed on foot.
Staying at Candikuning You will be invited to feel the comfort of a luxury cottage where the beautiful natural atmosphere is the main attraction.
Quiet cottage in the middle of the mountains: Strawberry Hill Hotel
Entering Strawberry Hill Hotel, you will immediately feel a warm and comfortable atmosphere like at home.
Beautiful natural scenery will make anyone complacent staying here. Here there are only 17 cottages, each of which is equipped with bathtub facilities with warm water that is fun to soak and refresh your body after shivering due to the cold mountain air. In addition to accommodations, here is also Strawberry Hill Restaurant which serves various Indonesian specialties and so on.
After eating, please spend time with various activities, such as playing billiards or reading books in the library. For those who like outdoor activities, you can take a walk in the strawberry plantation area and pick up fresh strawberries!
PS: Golf fans? Not far from the hotel there is an 18-holes golf course which is only a 10-minute drive away.
Strawberry Hill Hotel
3. Heaven to relax to your heart!: Lovina
Located on the north coast of Bali, the black sandy Lovina beach, the calm sea, and a group of dolphins are ready to bewitch you. But that's not all that makes Lovina special. The atmosphere that is so peaceful and comfortable offers another holiday experience than others!
A must do thing in Lovina
Watch hundreds of dolphins from the boat

One of Lovina's main attractions is a trip to see dolphins. So, it's a shame if you miss it!
To be able to enjoy the elegance of dolphins directly in their habitat, you have to wake up early enough to be able to directly reach the dolphin's location before 6 in the morning.
The morning scenery will be even more amazing when the sun starts to rise and the sea reflects golden light. You can also try feeding the fish in the sea by buying some fish food packs.
See dolphins in Lovina. Price Range: The package price starts from IDR 150,000 per person
Pamper your body with exotic massages: Agung's Spa

Imagine how fun it would be to be able to feel a traditional Balinese spa in the middle of a natural atmosphere. And that's what you can get at Agung's Spa.
Located in the center of Lovina, they also provide a shuttle service that you can use.
The atmosphere here is so comfortable that you will feel more relaxed. While reading the catalog and choosing the type of spa services, you will be treated to warm tea in the middle of a green garden.
Here, you will be served by reliable professional therapists using selected aromatic massage oils. Before going home, try to look around and buy cheap traditional Balinese sarongs as souvenirs for relatives at home.
Agung's Spa
Address: Jl. Damai Kalibukbuk, Singaraja, Bali, Indonesia.
Phone: 0362 – 42018
Operating Hours: 11.00 – 19.00
Price range: Rp110,000 – up to Rp.875,000
Diving Macro Diving sensation: Puri Jati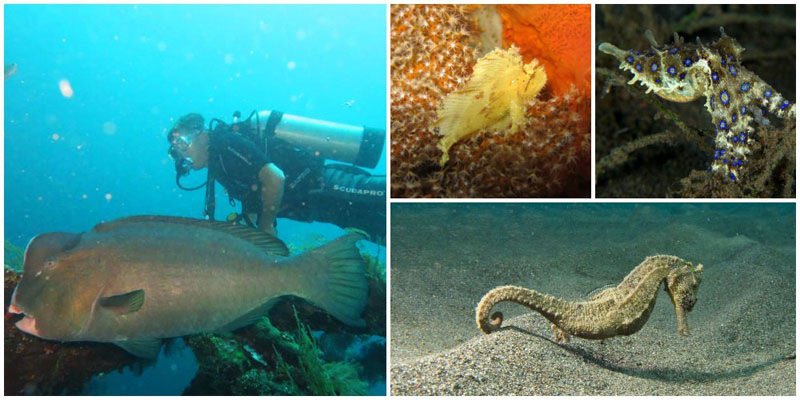 Located about 20 minutes to the west of Lovina, Puri Jati is a dive site surrounded by rice fields. In the coastal area there are various facilities to pamper divers, such as showers and cafes.
Diving here, you will not be presented with the beauty of coral reefs, but something more extraordinary than that, namely a variety of rare sea creatures. If you're lucky, you can even meet with camouflage octopuses that are skilled at camouflage!
For the hobby of underwater photography, Puri Jati offers many interesting photo objects for macro-photography!
In this area there are several diving centers, such as Arrows Dive Center and Zen Dive Resort, where you can learn about the ins and outs of diving.
Secret place to eat in Lovina
Desserts that make you happy, vegetarian dishes, and more !: Buda Bakery & Restaurant

Not only offers beautiful hill views, Buda Bakery also offers delicious food dishes that shake the tongue. Because of the many positive comments from the guests, we decided to enter Buda Bakery in this list of recommendations. The desserts served here are not only delicious, but also make you addictive and make you want to come back again, and again, and again
In addition to extraordinary desserts, vegetarians will be spoiled by the many menu choices they can eat. Simple design and interior, of course, will make you feel comfortable and feel like you are at home.
Romantic and elegant dining place: Secret Garden Restaurant
Intimate and romantic, that's the two words that best describe the restaurant located in one corner of Lovina.
With menu choices such as Avocado & Shrimp Salad, Fresh Seafood Soup, Seafood Curry, and Indonesian dishes such as satay, all the food here is not only tasty, but also comfortable in the bag.
To cover your romantic dinner with a partner, Secret Garden offers Banana Cream with delicious chocolate sauce and melted in the mouth, as well as the Ginger / Honey Fruit Salad served lovingly.
If you plan to visit here, they also provide free shuttle service in Lovina!
The best place to stay in Lovina
Light in the bag, but luxurious and beautiful: Villa Agung Beach Inn

Need a place to stay that doesn't drain the bag but is quality and comfortable? Villa Agung is the place. Here, you will be welcomed by complete and varied amenities, and the hospitality of the host, Gus and Sandi, who will be happy to answer each of your questions.

Villa Agung offers a dolphin tour package that is a pity to miss, at a very affordable price, only IDR 100,000.
Don't be afraid of being confused or running out of choices of tourism activities if you stay here, because Villa Agung has many surprises for its guests.
Dolphin beach hideaway: The Lovina Resort

At Lovina Resort, you can feel the atmosphere of Bali before tourism is endemic everywhere.
This luxurious and unique beachside accommodation has a beautiful background in the Bedugul mountains, as well as a variety of rooms, suites and villas. But what makes this resort special is its dolphins!
As is known, many dolphins live in the waters of the Lovina region, including in the coastal area which is right in front of this resort.

This adorable marine mammal can be seen directly from the beach, or if you want to be more satisfied, you can take part in the dolphin tour package available at this resort.
Find it hard, let alone leave it: The Damai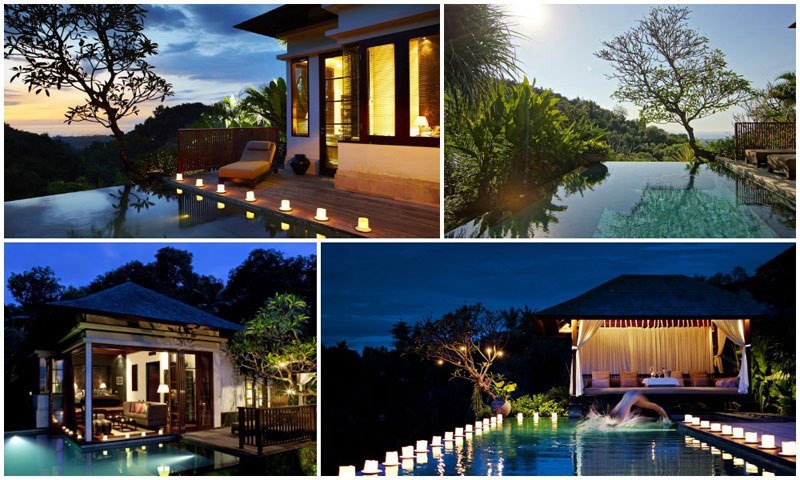 Relax in a private pool while watching the volcano panorama in Pulu Jawa? Here is the place!
The Damai is a solution for those of you who want to run away from the hustle and bustle of the hustle and bustle of the city in Bali, towards Lovina who is calm and peaceful.

Carrying the slogan "Hard to find, Hard to leave", The Damai is really located very hidden. This place is also an ideal stay if you want to explore other hidden paradise, such as Ambengan Waterfall, which is located not far from here.
The Damai
4. Relax while taking care of your body and mind: in Banjar
Famous for its hot springs, Banjar is a place where you can find inner peace.
Yes, in Banjar there are lots of activities that can not only spoil your body, but also calm your mind and spirit, such as meditation tours.
Unique things that can be done in Banjar
Find your "Zen": Brahmavihara-Arama

Brahmavihara-Arama is the largest holy place for Buddhists in Banjar. Here, you can take part in meditation activities under the guidance of the monks. Don't forget to wear a sarong and polite clothes when you come here. Find inner calm and enlightenment while admiring its beauty.
To enter the Brahmavihara-Arama area there are no tickets or tickets, but you can donate voluntarily. With high-level architectural art, it never hurts to visit this place while capturing beautiful angles through the camera lens.
Brahmavihara-Arama
Relaxation and refreshing the body: Banjar Hot Springs

If you like or have ever watched Game of Thrones, you certainly agree that we say that this natural hot spring is very appropriate for Khaleesi to use. Surrounded by beautiful gardens and hills, this bath has a fairly high historical value.
Enjoy 37 degrees Celsius water coming out of the dragon's mouth. It is said that bathing here can cure various diseases, stretch tight muscles, and brighten the skin.
You could say, this is the best hot spring in Bali!
For those of you who want to come here calmly and comfortably, we suggest to arrive early, because the more visitors the afternoon will be more crowded.
5. Waterfall in North Bali
Adventures of seven waterfalls: Sekumpul Waterfall

If you like adventure, then try this challenge: visit Sekumpul Waterfall.
Although his reputation is quite well-known, his heavy access makes this waterfall rarely visited by visitors. To get here, you need to walk across the river and cross the slippery terrain.
You can ask the local people for help to deliver to the waterfall by paying a little money. They will take you to the end of the road, and from there you still have to continue the journey about 50 meters to be able to see the beauty of this waterfall from a height.
From its name, it can be guessed that there are more than one waterfall here. In total there are 7 beautiful waterfalls with varying heights, with the highest reaching 50 meters.
How, interested?
Note: When entering the tourist area of ​​Sekumpul Waterfall, do not be easily fooled by a group of local residents who offer delivery services and entry fees as well as security of Rp. 200,000.
The route to Sekumpul Waterfall is quite well maintained and you can travel alone. Even though there are several intersections, you can ask local residents. Guaranteed, you won't get lost!
Getting There: The trip can be started from Denpasar to Singaraja, to Sekumpul Village. If you use a car, the travel time is around 2 hours, there are also quite clear directions.
Entrance Ticket: IDR 20,000
The beauty of twin waterfalls: Aling-aling Waterfall

Another waterfall in North Bali that we think is unique is Aling-aling Waterfall which is about 11 km from Singaraja city or 80 km from Denpasar. Unique because the flow of water in this waterfall is separated into two at the base or top with different speeds of water.
Don't just be amazed by the photos, go straight to see this beauty up close.
What distinguishes this waterfall from other waterfalls in Bali, here you can try natural slides in smaller streams.
Try, when else can you glide on a waterfall?
Getting There: You can use a vehicle from Singaraja towards Sambangan Village. Please follow the directions, and don't hesitate to ask if you are confused, because the location of this twin waterfall is still rarely visited by tourists
6. Important Tips before visiting North Bali
a. How long should I stay?
Depending on the number and location you want to visit, we suggest that you can stay for 2-4 days.
If you only want to see dolphins, you can stay 1 night in Lovina.
If you are interested in exploring Bedugul and Banjar, you can stay 1-2 nights, depending on how long you want to enjoy the tranquility there.
b. See dolphin attractions in Lovina
The attraction of dolphins on the high seas starts very early in the morning.
It's best to stay from the night before so you can wake up early to take a dolphin tour
We recommend using a dolphin tour service from Agung Beach Inn because it is quite affordable (only around IDR 150,000), and you will be well served.
Because the ship will depart at 05.30 in the morning (06.00 sunrise), be sure to wake up at the latest at 05.00!
c. Driving tips in North Bali
The trip from Lovina to Bedugul is very uphill, so you must be vigilant and careful.
If you are not really good at driving a car or bike, you should use the services of a driver or take a friend who is good at driving.
Make sure the vehicle and driver or driver are in top condition.
d. Weather in Bedugul
Because the temperature here is quite cold, don't forget to bring a jacket or warm clothes.
e. Etc
Make sure you bring enough cash before leaving for North Bali.
So, are you ready to explore the various beauty and uniqueness of tours in North of Bali? Which tourist locations you most want to visit, let us offer by organizing transport, for your comfortable journey. message us here
Have a good vacation!!